June 22, 2009
0

found this helpful
Well, first the position of the pole on your property is in question. You could use the pole to attach a dusk to dawn light fixture, if it is close to the drive way or front of the house. Or, you could use it to center a decorative fence along that side of your property, (this may involve cutting the pole down to size.
Or, you could fashion some bolts into hooks, and drill several holes in the post and hang flower baskets on it at different levels. };)

Myrna
Bronze Feedback Medal for All Time! 168 Feedbacks
June 22, 2009
1

found this helpful
Also, turn it into a flag pole or mount a large bell on the pole and put a vining plant at its base. Add a couple more poles and create a grape trellis if it's in a good location or a swing or use the pole as part of a gazebo that could be built.

June 23, 2009
0

found this helpful
Find a container suitable for planting annuals in, that fits the basketball hoop. Plant the sides of the container it with annuals that will drape and trail over the sides (Wave Petunias, ivy, trailing lobelia, alysum). Once potted, place the container into the hoop.
At the base of the hoop, pot up 3 matching containers, fill with assorted colourful annuals, perhaps some morning glory (which will climb the pole), and there you go. Have fun.

June 23, 2009
0

found this helpful
A possible solution might be to check for a freecycle site near you and ask if anyone has a backboard and net. You get it free, keep it out of landfills, and possibly get rid of some of your own clutter. Freecycle@yahoo.com

June 23, 2009
0

found this helpful
I installed a real pretty bird house on mine I been trying to get purple Martins to house there maybe next year.

June 23, 2009
0

found this helpful
My first thought would be to sell the property as soon as possible. Homeowners associations are usually loaded with egotistical self important tyrants. I'd get as far from that as possible. I'm afraid that you won't be able to try most of the useful suggestions above as long as you live there.
I hate to sound negative, but I've heard some real horror stories about similar situations.
All The Best,
Woody

June 23, 2009
0

found this helpful
Or you can get a sawsall and cut it down to make a birdbath or birdhouse out of it. I agree, people who send me letters about what to do with my property make my teeth itch!!
Maybe they could all get along like these folks!!
Funny, huh?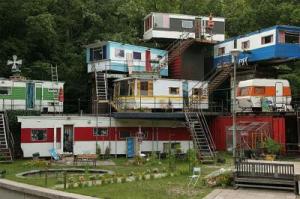 June 24, 2009
0

found this helpful
I like Buff Soldier's idea of hanging baskets. My idea was to find some long ivy tendrils (maybe from an old house) and train them up the pole, but I don't know if it would work, the baskets would...in the winter maybe fake holly or greens in baskets, mostly green.
Good luck.

June 24, 2009
0

found this helpful
I like the flagpole idea, but my favorite one is actually with the photo of the moblie home paradise! Kidding aside, I know that neighborhoods that have homeowners assoc are supposed to be nicer, better, safer, etc, but all they do is cost you money. That is for you to decide.