April 19, 2007
0

found this helpful
I have always made up some really strong tea and then dipped the table cloth into it until I got the color of "antiquing" I was after. Then I rinse it in cold water and allow it to air dry. I am sure others have different ideas,but that is how I did mine. I have also heard of people using coffee but have no clue if it would work the same or not. Good luck.

April 19, 2007
0

found this helpful
With tea, of course. I did this with some bathroom rugs. I bought a large box of cheap tea bags at walmart. I filled the washing machine up with hot water on the smallest load setting and put in the tea bags and rugs. I let it get to the point in the cycle where it swishes around, but I stopped it before it drained out and rinsed and then I let it all soak. I don't remember how long I let it soak.
Later I let it rinse and then I had to fish out all the tea bags. I only used half the tea bags in case I wanted it darker later. It worked pretty well. They have faded some, but as long as they're still off-white to match the bathroom I'm ok with it. That was 2 years ago and they are still off-white even though I wash them about every 3 weeks.
By Hoffmann House Network (Guest Post)
April 20, 2007
0

found this helpful
The tea bags work well, coffee grinds would offer a darker tint, dark onion skins work for a lighter yellow color, but if you want the stain to last longer add white vinegar to your tea water. Just like when you dye Easter eggs and use vinegar to seal in the color, the same theory applies to staining fabric as well.

April 20, 2007
0

found this helpful
Thanks everyone! I tried on my own yesterday, before I read your posts, and I used green tea bags. Boiled, steeped, cooled, then added the tablecloth. It didn't get quite dark enough so I added chai black tea. I got the perfect shade while wet so I added a little vinegar, then dried it, only it smelled like chai. I washed it in plain cold water and now it's too light again. I also thought about boiling cloves.
Someone on a group I'm in online, suggested hair dye, not permanent of course, until I get the right shade!
I maybe should have mentioned this table cloth is 100% polyester and 'easy care and stain resistant'.
Here is a picture of the tablecloth before staining and the color of the chairpad and dishes I'm trying to match.
Thanks again!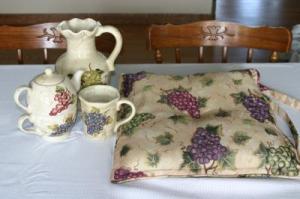 April 26, 2007
0

found this helpful
You can make a big tub or bucket of tea using regular tea bags. Use lots of tea bags and hot water and dunk the tablecloth until color you like. What I prefer doing though is making a big vat of instant coffee and dunking the fabric.
This dyes the material quicker and a little darker. Then rinse and dry on a line. Enjoy!