Breed Description:
The Boston Terrier is a compact, well-muscled and clean-cut dog with a lively temperament and high degree of intelligence. This breed has a broad, flat head, large round eyes and a sweet docile expression. Affectionate and loving, this dog is determined, strong and sturdy and makes an excellent companion.
Group: Non-Sporting
Purpose of Breed: Baiting Bulls, Ratting
Country of Origin: USA
Average Size: Boston Terriers range from 11-14 pounds and 10 - 16 inches tall.
Color(s): Either brindle or black with white markings.
Coat Type: Boston Terriers have short and smooth coats, which require minimal care.
Grooming: This breed is a minimal shedder and its smooth, short coat is easy to maintain. Standard care for eyes, ears, pads and nails is required.
Exercise Needs: Boston Terriers are quite athletic, enjoy walks, flyball and agility trials and like all dogs, benefit from regular exercise. Their size makes them suitable for apartment living as long as they are exercised daily. Care should be taken during exercise to avoid overheating them, which can lead to difficulties breathing.
Temperament: This dog breed makes a good companion due to its obedient, protective and gentle nature. Boston Terriers are bright, alert and exceptionally affectionate. Although they are friendly breed, they are initially suspicious of strangers and make good watchdogs.
Common Ailments: Susceptible to eye problems, breathing and whelping difficult.
Life Expectancy: Averages 10-14 years.
Trivia: The popularity of the Boston Terrier swelled so much in the 1920s that the breed represented between 20 and 30 percent of all of the dogs entered in dog shows.
More Information: Boston Terrier Club of America, www.bostonterrierclubofamerica.org/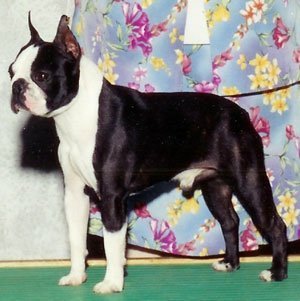 Credits: Booth Photography - Dog Owner: Billie Bunch
Ch. V's (Rocky) of JJ ll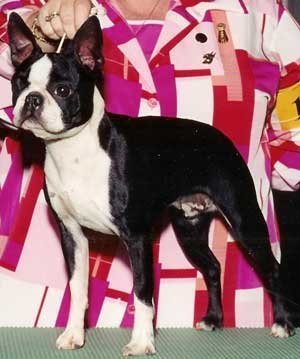 Credits: Booth Photography - Dog Owner: Billie Bunch
Ch. B & B's Unique Carbon Copy (Sisser).