My Frugal Journey started when I became a lone parent, my son was 3 years old and I had to find us somewhere to live.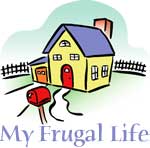 I was lucky that I was offered a house, but we had very little by the way of furniture etc... I discovered the joy of Thrift Stores, Ebay, Freecycle and Car Boot (Yard) Sales.
I now grow my own fruit and vegetables, keep chickens for eggs and have rediscovered the arts of dressmaking, knitting, home baking.
We go on camping holidays or to festivals for our holidays.
We also make use of our local resources such as the library, swimming pool, museums, nature reserves, galleries, local farms and parks.
We have a wonderful life now and I wouldn't change it for the world, we have a beautiful home that looks like we have spent a small fortune on it but it's all been donated or purchased very cheaply.
I've learned so much on this journey, I appreciate what we have so much more than before, we repair, reuse and recycle as second nature and not only is this good for us as a family but it's also great for the planet too.
Scarlet from UK
Do you have a frugal story to share with the ThriftyFun community? Submit your essay here: https://www.thriftyfun.com/post_myfrugallife.ldml