Have an occasional impulse to snatch something sitting at street side for the weekly trash pickup? Amazing what people throw out, but look for inherent value as the item may be more valuable in the future.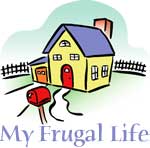 Here is a true story in that regard: A neighbor of my parents had spent years as a hobo. Along the way he learned how to be an elevator mechanic. When I knew him, he drove a Cadillac and his wife worked for the telephone company. He spent his weekends at a local swap and shop peddling items he found sitting by the street.
He had a collection - five or six at least - of museum quality Victrolas. These are the machines that create sound from a wax cylinder, have an ornate horn and were pictured on the old RCA advertising showing a fox terrier listening to "His Master's Voice". Remember those ads? These things were in perfect condition and simply magnificent pieces of work. He had found each and every one sitting by the street in the late 40's and early 50's as LPs came to be the new technology. What would the folks on Antiques Roadshow say?
By Tracy from Kansas City, MO
Do you have a frugal story to share with the ThriftyFun community? Submit your essay here: http://www.thriftyfun.com/post_myfrugallife.ldml