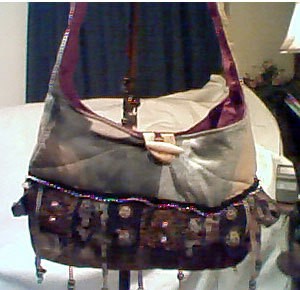 This is a handbag I made from a tutorial I found online called Tiny Happy. It an easy to make project. I modified it somewhat as the body was a bit too wide so I cut off an inch on each side. This one was made from an old comforter I had that I wasn't using. It's sort of an Indian print material. I cut it out then added some extra quilting seams to make it more sturdy. I found the trim in my stash of embellishments and added it to the front and back. The embellishment came from an old shirt I bought at the thrift store but didn't like the shirt so I cut off the trim. The lining is a burgundy color that matches the colors in the bag. I added a pocket on the inside of the bag also.
I hope you enjoy making this bag as much as I did. I plan to make many more. It was sew-easy!
Happy Crafting!
By Marian from Danville, VA
Editor's Note: Here is the link to the tiny happy tutorial: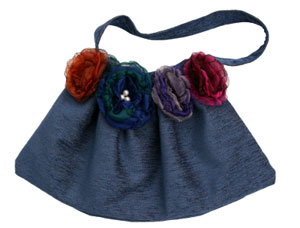 Ways to make fabric stronger for handmade purses. Post your own tips here.
Different Lining Ideas
The purse could be lined with fabric, or craft foam, or iron on interfacing could be ironed on to the fabric pieces before you sew them together. If the purse has a flat bottom, a piece of cardboard could be cut to fit, and fabric glued around it.
By Jean
Use Interfacing
There are different types of interfacing on the market, ones that stick ones that you sew. I would talk to someone in the fabric store and they should have a good idea what would work for your specific needs.
By Michawn
Try A Purse Form
If you intend to wash your purse after you've completed it, try a purse form, like "magic purse form", or make one out of plastic canvas, so it will be removeable. Some interfacings will gum up your sewing machine. Bacrum (sp) is a lining that is used for heavy duty draperies, and that would work also. Best to ask questions in your local fabric store.
By lisa
Use A Thick Fabric That Can Hold Up To Heavy Usage
Be aware that if the fabric isn's sturdy, no matter what you line it with, it will not hold up to wear-and-tear on the outside, especially if the purse will be used a lot. If it's an evening purse that won't get much use, a thinner (lined) fabric will work great. I only bring this up because after going through all that work, it's discouraging when something simply doesn't work or falls apart.
By susan
Quilting for Strength
You could try quilting your fabric.
Use Upholstery Fabric or Other ideas
Upholstery fabric. However, most fabric purses I have seen are quilted or made from wool sweaters.
By pam froelich
Line With Fuseable Interfacing
I use a fuseable interfacing on both the lining and the outer fabric. This lets you use almost any fabric, but the bigger the bag, the heavier the interface and filling you'll need to get it to stand alone.
By Kathleen
Expert Advice
I make and sell purses and tote bags. If your fabric is washable, do wash it then dry it without fabric softener. This will make any fusible interlining hold better. If your fabric is very light, I would recommend fusing another plain fabric to the wrong side to give it some stability, and using a sew-in interfacing that has good body (To fuse the two pieces of fabrics together use fusible web.
If you don't know what it is, ask at the fabric store. There are instructions that come with the fusible web). I use plastic canvas for the bottoms of my bags. I make a separate "sleeve" of the lining fabric to put it in, then just set it in the bottom of the purse. I hope this has been of some help to you. Fusible interfacings are good to use as well. I hope this has been of some help to you.
By Judy
Answer

this Question

...
What little girl wouldn't love another purse, we girls just can't have enough purses. This one is so easy to make. Just cut two shapes and join them with a short zipper. Sew the raw edges together, with the right sides together and slip some bright beads on wire for a handle. Attach the handle by inserting the wire in the ends of the zipper fabric. Finish however you like. Now just watch the smiles.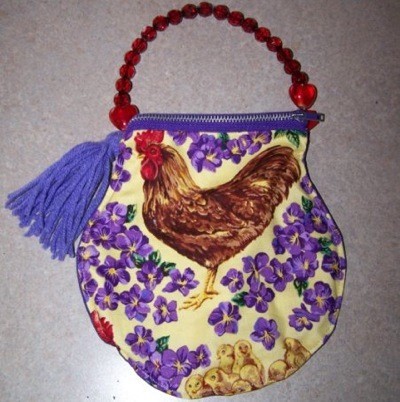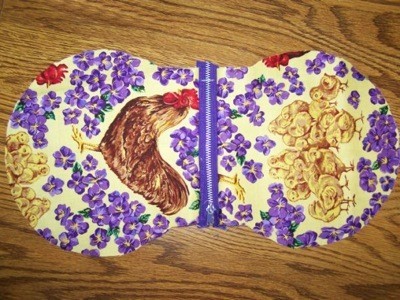 By Ann Winberg from Loup City, NE
Read More Comments
How much fabric does it take to make a rag bag purse?

Toni from Piper City, IL

Answers:
Making A Rag Bag Purse
Check here:
quickquilts.com (07/03/2008)

By Marjorie
Making A Rag Bag Purse
I make these and sell on eBay and at craft fairs. It just depends on what size or style you make as to the amount yardage you'll need. I have found that if you're making one that is 14 inches tall and 12 inches wide with the traditional 5 inch squares with the x stitch pattern in each center using at least 6 to 8 squares on each side with a solid inside base out of fabric and your handle from fabric it takes 1 and 1/4 yard of fabric. If your making your inside lining from a coordinating fabric then you would get half of one print and half of another from that amount given. You'll need some type of filling for the inside squares. You can use poly fill quilt batting or I use polyester.

The fabric lady at our Walmart who is very crafty, suggested I buy a polyester blanket, because it's the same as the type you buy on the bolt from the fabric department, but cheaper. I make a lot of rag items so it lasts longer for me. I buy a full size blanket for $5.00 and it lasts forever. The satin edge binding on the blanket serves perfectly for my purse handles. I just cover it with my fabric. The polyester blanket used as filling is also thicker than poly fill quilt batting and will let your rag purse stand firmer and not be so floppy after washings. Any fabrics you have left from your making of your rag tote or purse you can use to make matching a sunglass case holder, pocket size Kleenex case, or even small coin purse. Use Velcro to close it.

Good luck with yours. They are addictive once you start. Try adding lace dollies or buttons in the center of the squares as decoration. You can add an extra rag pocket to the outside for carrying your cell phone in, too. (07/05/2008)

By Julie
Making A Rag Bag Purse
If you decide to purchase a full sized blanket for filler and you have removed the satin edging tapes; create long pieces of braiding to use either as handles or sew as a decoration for the top of the bags (or as a simple design on the front of the finished bag). I've created many geometric designs and simply 'tacked' them to the individual squares or as an over all pattern on the front/back or both sides of the bags.

I usually find that I have to cut each binding along it's 'fold' line; ironing them flat; then folding each edge over so they meet in the middle; iron this piece flat so that it resembles seam binding before braiding them.
(08/19/2008)

By mepixie1