February 1, 2009
0

found this helpful
One idea would be to make a meatloaf recipe, but instead of making a loaf, divide it up and bake in a muffin tin, then freeze the individual "muffins" for one serving at a time.
You could also use hamburger to make individual Salisbury Steaks to freeze.
Omelets are easy to make and affordable for one person, and not just for breakfast..and there is no end to the fillings you can add.
Check online recipe sites for those "packet" meals that are wrapped in individual portions in aluminum foil and baked...
Just a couple of ideas...I'm sure lots of others will be coming!

February 1, 2009
0

found this helpful
Try this site: http://www.cookingfor2.com
It is affiliated with Taste Of Home (their recipes are great!) You can do recipe searches for items you have on hand and if you cook for 2 you can put one portion in the freezer or take it for lunch the next day! Menu planners help you plan ahead so you know how much you need for your groceries, too.

Marjorie
Silver Feedback Medal for All Time! 290 Feedbacks
February 1, 2009
0

found this helpful
Whatever you are looking for always go to a search engine.
southernfood.about.com/.../onepotrecipes.htm
www.gypsysue.com/recipesone.html
www.recipezaar.com/.../one-dish-meal
By Shellee (Guest Post)
February 1, 2009
0

found this helpful
I live alone, too, and have started making meals for 2 - one for home and one for lunch the next day. I usually pick one protein (this week it's hot dogs) and plan my meals around that theme (Corn[bread]dogs, a yummy Hungarian dish with hot dogs, mac-n-cheese with hot dogs, regular hot dogs with potato salad, etc...).
I just scale down my recipes to fit 1-2 people, or make the whole recipe if I love it (mac-n-cheese!) and nibble on it as a meal or snack for several days.

February 1, 2009
0

found this helpful
I'd avoid the hot dogs and macaroni and cheese. Both are very bad in terms of sodium content. You might save money here and now, but those medical expenses will devastate you in the long run. :-(
By jan (Guest Post)
February 2, 2009
0

found this helpful
Home made beef and chicken vegetable soup are good. They freeze well. Beef stew is good too.

Judi
Bronze Feedback Medal for All Time! 239 Feedbacks
February 2, 2009
0

found this helpful
I think I would take the lazy way out and cook for 2 then freeze the other half. That way I would only be cooking half the time!

February 3, 2009
0

found this helpful
Hi Barbara!
I don't live alone and am therefore not in your position, but I think I would lean toward making a BIG batch of one or two things every week and freezing single portions, so that over time you would accumulate quite the variety. Things that freeze very well include soups, chiles, spaghetti sauce, unbaked pizza, stews, goulash, roast in gravy, hash-brown casserole, rice casseroles, lasagna - cooked or uncooked, pizza buns, baked meatballs, meat loaves - baked and sliced into portions, wraps, brown rice, baked beans, and I'm sure there is more! Of course you would have to devise a dating system so that nothing gets too old.
You could always cook up something fresh on days you feel inclined that way, but this way your main part of the meal is ready for the defrosting. You might want to invest in square containers to maximize your freezer space if that is an issue. Baking and freezing portions also saves a lot of money and anything home-made is better quality because it avoids many unpronounceable and unhealthy ingredients. Cooking once a week with a friend who is in a similar position might be more enjoyable. Have fun and God Bless!
By Betty (Guest Post)
February 3, 2009
0

found this helpful
Dorothy and Mary T have the right ideas for you! Also, look to see what the best deal in your supermarket is for that week. If chicken is at a really low price, make dinners using chicken that you can freeze for another day. That way you can stockpile dinners for yourself. My local supermarket had the best deal on boneless pork roast this week (half price!) so after cutting some to roast I froze the rest for another time when I'm sure the price will be much higher.
You can eventually have a variety of foods to use while saving money if you shop the specials but I would really try to avoid hot dogs -- too much sodium, nitrates, etc. This is my little "hot dog" Rusty. Good luck!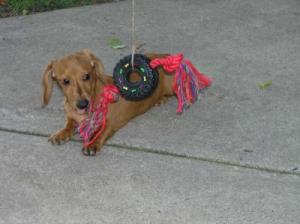 February 4, 2009
0

found this helpful
I'm not huge on processed foods, but when hubby doesn't feel like cooking or there are only enough leftovers for one of us, I'm very happy with the flavor and quality of Marie Callender's chicken pot pies. Yum! I don't eat them often, so it's a sort of special treat for me. They're about $1.50 or $1.75 each at our local Save-a-Lot.

February 4, 2009
0

found this helpful
Taste of Home has a publication for Cooking for Two.
As usual, the recipes sound great !!
I believe I'd look thru these recipes ( on line) and choose a recipe, make it, eat one, and freeze one.
That way you'd have a "stash" of frozen dinners for nights that you don't feel like cooking, or when things are in a tizzy.
Also, you can bake a package of Jiffy Corn Muffin Mix. It makes 6 muffins. You could eat one,and individually freeze the others.
I've noticed that the pre-made frozen dinners at the grocery store have rice, spaghetti, and other pasta items in them. Would be easy to prepare spaghetti, and divide it up into freezer bags, do the same for the sauce, and you'd have several meals.
Lots of luck to you............
By Deeda in Seattle (Guest Post)
February 4, 2009
0

found this helpful
Potatoes are cheap and filling; bake them, eat them with sour cream, chili, cheese, broccoli, and use the leftovers for hash, frittatas/omelettes, soups, and fried fritters/pancakes. The advice to cook and divide into portions is a good one! Just make sure you eat well: whole grains, protein(eggs/chicken, cheese/yogurt and beans/tofu are good), and veggies and fruits. Think of barley-vegetable soups with toasted cheese sandwiches, fruit and yogurt smoothies, chicken and salad, beans and rice, veggie and meat/tofu stir-fries, bean/rice/veg/cheese burritos, soup noodles with veg and meat, or just nut butters on whole grain toast with fruit.
Tuna and mac n cheese with peas is okay too, once in a while, or top r amen with veg and chicken added too. Just not all of the time. Good luck!

February 5, 2009
0

found this helpful
Hello from another one on a fixed income and single: I make everything I used to make, then divide and freeze in glass widemouth pint jars, which microwave nicely for future meals. Good labeling of course. No need to fill up on cheap starchy stuff, just do what you already know and divide it for later.
By Diane (Guest Post)
February 10, 2009
0

found this helpful
Barbara check out http:// They do senior meals each month. You get 10 complete meals for 28.00 and the food is good. They come frozen and you just heat and eat.They are nothing like the regular frozen dinners you buy in stores.