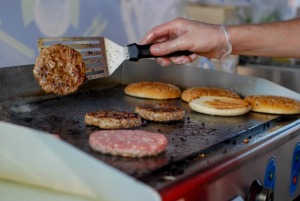 I work in fast food, my shirts are always greasy and smelly when i get home from work everynight. I need some suggestions on how to tackle this problem. I have tried everything that I could think of. HELP!
Amy in WV
Answers
Best Answer
Put a little pine cleaner in the washing machine . One-eighth to one-fourth cup per load should do the trick. Most pine cleaners have washing machine instructions on the bottle. It will really get the grease smell out, and no, you won't wind up smelling like a pine tree!
By carol (Guest Post)
April 29, 2005
0

found this helpful
Best Answer
I worked at McDonalds a long time ago.....i always
used GOOP hand cleaner on the grease spots on my uniform and then thru it in the wash using hot water and Tide
By Trix (Guest Post)
April 30, 2005
0

found this helpful
Best Answer
Try washing your clothes using dishwashing liquid. They're really good at cutting out grease. Find one in a great scent and your clothes should come out clean and smelling great.
By guest - Linda (Guest Post)
April 30, 2005
1

found this helpful
Best Answer
Add one cup of ammonia along with your detergent. Ammonia is a grease cutter and deodorizer. Run an extra rinse cycle after you try this the first time.
( You already know not to mix bleach with ammonia.)
By Becki in Indiana (Guest Post)
May 10, 2005
2

found this helpful
Best Answer
Go to an auto parts store and buy a tub of their hand cleaner/degreaser (Gojo is one brand name, but the store brand should work just as well). Rub a glob of this gooey handsoap on the grease stains, and work it in with a brush (an old toothbrush works well). Then wash in regular detergent in warm or cold water (hot will set the grease stains in). Add 1/2 cup of plain old vinegar to the rinse cycle (it will remove the odors, and no, your uniforms won't smell like vinegar!). Also, if at all possible, don't dry the uniforms in the dryer -- the heat seems to "lock in" the odors. Hang them to dry, outside is best, but even hanging them in your shower beats using the dryer.

December 6, 2014
4

found this helpful
Best Answer
If anyone ever reads this anymore, I know I'm reviving a dead thread but this is my advice. I work at BK and had 2 shirts that I washed after each shift, couldn't stand having bad smelling shirts. One day I got the idea to take an empty pickle bucket, clean it out good, and put hot degreaser solution we used for the floors in it.
Make sure everything was submerge and let it soak overnight. Took the one out and washed both dirty shirts, and then dried them. It was a pound difference from the shirt that I degreased to the shirt I didn't. I usually do this once a month.
Answer

this Question