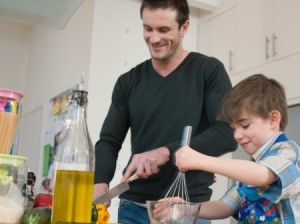 After years of ordering out on the weekends my husband and I decided it is getting too expensive. So, to save money, we've decided to cook at home on the weekends. Does anyone have any easy, economical Saturday meal recipes?
Also, I grocery shop in Sundays so whatever ingredients I need will have to be able to survive a week until the following weekend when we would prepare it. Thanks! I always see such awesome tips on this site!
Lisa from Concord, NH
Comments
By Marta (Guest Post)
April 13, 2007
0

found this helpful
Top Comment
Leftovers Soup - save your extra veggies and meats in the freezer, then make a soup on Saturday.
Leftovers Pockets - Using crescent dough. Make two large rectangles with the dough by pinching the seams together. Add the leftover veggies, meats, and some cheese then wrap the dough to cover. If everything is chopped to the same size it will bake evenly and the cheese will melt it all together. You can brush the outside with egg or milk. Bake as directed on package.
Frozen Pizza with tomato & cuke salad.
By (Guest Post)
April 13, 2007
0

found this helpful
Top Comment
All during the week that you cook, make extra. You are cooking it anyway so it takes no more time. Freeze the leftovers. I use a foodsaver. It keeps the food as though you cooked for the first time. You can get them for as little as 50.00 and save an enormous amount of money in less than 2 mo.
I shop and cook for 2 MRDD clients and I spend less than 200.00 and they eat off that for aprox. 3 mo. I cook a "regular" family size meal and freeze the leftovers in meal size portions for the days we have no time to cook or really don't want to.
Example: I will cook 2 meatloafs, I will serve them dinner then slice some off to make sandwiches for 2 days worth of lunches and freeze the other one for another day, Spaghetti or goulash, I cook 2lbs of the pasta & divide it up for several meals & lunches, Pork chops, chicken, bacon(BLT'S), chili,Taco meat, burgers, beans&franks, for example all can be cooked & frozen to use later. We buy flavored instant potato's(.89 to 1.00 for a box of 2 packets) & take only the time to boil H2o to make them.
Some days I will cook several meals at one time or I can do them day by day. I hope this helps you. We have days from start to finish, dinner is done in 30 min & we are out the door.
By Elizabeth (Guest Post)
April 13, 2007
0

found this helpful
Top Comment
Taco Soup
look up the recipe on the internet.
canned corn, canned beans, canned crushed tomatoes and a packet of taco seasoning.
Most of the ingredients are in cans, with the exception ground beef or you could add canned chicken.
You can cook the ground beef ahead of time and freeze.
Add and mix all the ingredients right in the pot and then heat and serve.

April 13, 2007
0

found this helpful
Top Comment
Thank you, everyone, for these great meal ideas. I was stumped before but thanks to all of your great suggestions I'm going to be heading in the right direction as far as meal planning for the weekend.
Lisa
Read More

Comments