Growing: Dill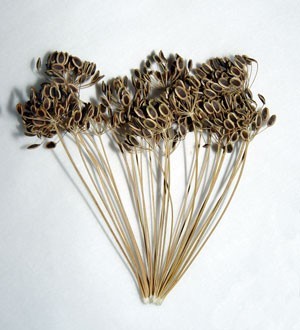 Botanical Name:
Anethum
Common names:
Dill
Description:
Dill is an easy-to-grow, aromatic herb and a good choice for those just starting to explore the rewards of growing their own herbs. Dill grows up to 3 feet tall and is an attractive addition to the garden's back border with its clusters of star-shaped yellow-green flowers and its airy, feather-like blue-green foliage.
Life Cycle:
hardy annual
Exposure:
full sun; sheltered
Cultivation:
Dill likes light, well-drained soil, but needs protection from winds that can easily flatten its weak stem. It grows best in climates with moderate to cool summers. Seedlings don't transplant well, so choose the location you want the plants to grow and sow seeds directly in to the ground in the early spring. Sow seeds thickly so they can support one another as they grow. Because seeds are usually allowed to ripen on the head before being collected, plants reseed freely throughout the season and can quickly spread seedlings through the garden. For this reason, its a good idea to give dill its own corner in the garden. Plant in succession to harvest all season and do not plant near fennel.
Propagation:
seeds
Parts Used:
leaves, seeds
Harvesting and Storage:
Pick Dill fresh as you need it throughout the season. Frequent cutting will prevent plants from going to seed. Extra Dill can be hung upside down to dry or dried between layers of paper towels for 3 minutes on a high setting. Once seed heads forms, allow them to develop and dry completely before removing them easily by hand.
Medicinal Uses:
digestive aid, sedative
Culinary Uses:
leaves: fish, sauces, garnish; seeds: pickles, vinegars, oils, marinades and roasting
Other Uses:
wreaths
Add your voice! Click below to comment. ThriftyFun is powered by your wisdom!