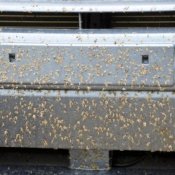 I use The Love Bug Solution. It's a new product that is sprayed on the car. It forms a cellophane-like barrier that traps the bugs before they can damage the paint. When I arrive at my destination, the barrier turns to soap suds when you spray it with water and the love bugs and other insects simply wash away.
By SamYates from Fort Pierce, FL
Read More

Comments

I live in the New Orleans area. Across the south in the spring and fall, we are plagued with little flying insects called LOVE BUGS. They are all over your car and are the biggest mess. They have a high acidity level so if not removed promptly, they can actually take off the paint. This isn't just a quick rinse-off with a hose answer, as anyone living in these areas know.
My question is, has anyone found a good way to clean our cars to make sure the finish is protected?
Thanks,
Sandy from Kenner, LA
Answers
By lindajean (Guest Post)
October 1, 2007
0

found this helpful
Houston also has lovebugs! Use WD40 when splatter is still fairly fresh!

Holly
Silver Post Medal for All Time! 364 Posts
October 1, 2007
0

found this helpful
Once you get the car clean, you need to give it a good, thorough, heavy duty waxing.
By jodee433 (Guest Post)
October 1, 2007
0

found this helpful
I use Pam on my SUV after I wash it. works great.

October 2, 2007
0

found this helpful
My husband works in road construction. He sprays diesel fuel on dried asphalt to remove it from the bed of his truck. I don't know if this would affect your paint or not. Maybe you could set a piece of painted metal outside and test it.
Maybe a junkyard would let you test it on one of their cars. If it can remove asphalt, it should remove those bugs. Good luck!

October 2, 2007
1

found this helpful
I spent some time in your area following the horrific Hurricane Katrina while volunteering and can remember those awful bugs! Find sponges that are used for cleaning pots & pans but that won't scratch the surface. They will help to scrub off the bugs along with some soap and water. Once you've dried the surface, spray the painted areas with baby oil. This will keep the bugs from sticking and it won't hurt the paint finish at all. Sounds strange, but I've done it and it really does work! We used it on cars at dirt track races to keep the mud from sticking to the cars. Hope this helps!
By Nolasandy. (Guest Post)
October 2, 2007
0

found this helpful
Good tips, Thanks a lot!
Sandy
By Suzie (Guest Post)
October 2, 2007
0

found this helpful
I saw Frank Davis on the news talking about love bugs, and he recommended using a dryer sheet to wipe them off. He also said paint color matters.
Apparently the lighter color you car is, the more likely you are to attract them.

September 14, 2008
0

found this helpful
If you spray the spots with "WD-40" and let them sit and ahen mix "Windex" and dish washing liquid then scrub off with A heavy duty brush, sponge, ect. After that wash them off.
Read More

Answers

What is the easiest way to remove love bugs from my automobile?

Pat from Collins, MS

Answers
By Judith W. (Guest Post)
October 29, 2008
0

found this helpful
Ok, I give up. What are love bugs?
Editor's Note: The lovebug is a member of the family of march flies. The adult is a small, flying insect common to parts of Central America and the southeastern United States.

October 29, 2008
0

found this helpful
Try a used fabric softener sheet. Its texture is perfect for removing the bugs and will not scratch your cars finish. To help keep the bugs off of your car, you can spray Pam cooking spray, or WD-40 on the front of your car. Just a light spray and keep them cleaned away with the dryer sheet.
Hope this helps.
Tina
Read More

Answers

What is the best way to clean off the "lovebugs" splatter off a car windshield? Please help, mine is covered and gross!
By john Romano from Dade City, FL

Answers

October 5, 2010
0

found this helpful
I would not use some sprays such as WD40 because it will leave a film on the windshield and the wipers will smear it around even more. You could use a razor blade to scrape most of the bugs off then a window cleaner with some Isopropyl alcohol added by you, available from super markets and Walmart and scrub with a non-scratching pad also available in the household section of the above stores.
No scratches or smearing on the windshield.

October 6, 2010
0

found this helpful
Bounce dryer sheets, even used ones work. Our RV coach was covered with them after visiting Cameron, LA, on the Gulf coast. Got home, wet down the windshields and front, used a handful of "used" wet Bounce sheets and (actually, to my surprise), it worked! There is a tiny bit of elbow grease needed but not a whole lot.

October 6, 2010
0

found this helpful
I really don't have a clue about getting them off the windshield, but when we lived in FL, we got a bottle of Avon's Skin-So-Soft and wiped a very light coat of it on our car hood and bumper. Cleaning them off those two places afterwards was an absolute breeze. Good Luck, John! That is one thing living in Michigan now that we don't miss about Florida. Do miss the FL winters. (:>)
Answer

this Question
Is there any way to get rid of lovebugs from your yard, every year they just about drive me nutty. Please, if you have any suggestions, let me know.
cj
Answers

May 1, 2011
0

found this helpful
For the car....I have found that after you wash your car hit it with wax at least the front end and hood. Allows for a much much much easier removal.
With regard to the windshield, haven't tried it yet but maybe that rain ex spray would work (kind of a wax for the windshield).
Read More

Answers