Well here I am again feeling a little rather chipper at the moment. I have purchased my yogurt maker and am quite apt at making and drinking thick and Greek yogurt. Mixing in the different flavors to suit our mood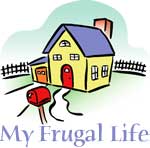 (OH and me). I was spending approx $7.00 per week on yogurt, so after 4 weeks, it had paid for itself. My recent edition, a Panasonic bread maker is proving to be a good investment. I estimate that after 4 -5 months of use, I will have covered my costs and be actually saving money.
I also was given a water butt and have joined this to my existing one, so my water costs will be further reduced next summer from watering my pots. Some of my shrubs and trees in my front garden have suffered over the harsh winter last year and the dry summer. If they have a tough winter and need to be replanted, I can replace with some fruit trees and wildlife friendly bushes next spring.
I am in the process of painting my kitchen/breakfast room with paint bought in the reduced section and am going to paint my cupboard doors with special paint also secured from the reduced aisle. I will have to purchase some new handles but I can wait and see what happens in the sales nearer Christmas. I have winter-proofed my house by putting screwed up cling film around some of the windows which have a small gap between the seal and the frame, put foil behind my radiators to reflect the heat back into the room, put down rugs on my wooden floors, and have been given some fleece so I can make some removable curtain linings which I will do soon. Most people have the heating on already but because of the extra insulation in my loft/roof and new carpets laid (my health has improved in the last 5/6 years so we can now have carpets) and wearing jumpers not just t-shirts indoors, we don't feel the need for the heating to be on just yet.
I was given four big buckets of apples and the same of pears, these have been par cooked and frozen along with my foraging for free fruit. I have also found a farmer who will sell me meat direct the farm and it is less than half the price of the supermarkets. This I am very happy with. Lastly, I have started to batch cook for the week on Sunday mornings. This has saved me so much time and money as I work long hours. The oven is only on Sunday mornings and the rest of the week, I use the microwave or reheat on the stove top and if I feel very lazy, I can buy a bag of chips from the chippy on my way home and use with lancashire hotpot or chilli, a nice change from spuds or rice or spagetti.
When I discover some more time and money saving ideas, I will let you know. Bye for now.
By meshelle from Haverhill, Suffolk
Do you have a frugal story to share with the ThriftyFun community? Submit your essay here: http://www.thriftyfun.com/post_myfrugallife.ldml