February 20, 2009
0

found this helpful
I have 5 medium size dogs, and I can highly recommend laminate, but unfortunately I live in the UK, so the brand would not be of any help to you.
By (Guest Post)
February 20, 2009
0

found this helpful
We just remodeled our main level. We bought prefinished bamboo flooring from Menard's and had it installed on our floor. It is supposed to be harder than white oak. It is grown in humid climates, so it handles water very well. It has gotten stratched in a few places from grit, but these scratches do not show.
The beauty of bamboo is it is supposed to look sort of "lived-on". It was also considerably cheaper than prefinished oak and came in a beautiful honey finish. It has held up to our scrappy Boston Terrier and his romping.

February 20, 2009
0

found this helpful
If you go with laminate use the non slip kind. It has sort of little ridges if you look really close. I have it with a dog and it is really, really scratch resistant.
By Roxanne (Guest Post)
February 21, 2009
0

found this helpful
I had both types of flooring together with dogs. If you have puppies, not house trained yet, hardwood is easier to maintain, because laminate can soak up the "wet spots" in between the planks and will expand.
Both types of flooring will be slippery for dogs, so I put down carpets on top that I replace regularly. Without the carpets you will have sliding dogs when they run around. With older dogs I had a lot less problems than with young very active ones when it comes to sliding around the rooms.
Good luck!
By Suescats (Guest Post)
February 22, 2009
0

found this helpful
I can tell you one brand NOT to get - Armstrong laminate with a 30 year warranted. We do animal rescue, and I wanted flooring that could handle LOTS of washing. My contractor recommended the Armstrong, because of the 30 year warranted. It cost quite a bit more than some of the other brands, but I figured that I wouldn't be doing my floors again for a long time. WRONG! Within a year, the color had come completely off in several areas (not even high traffic areas).
My contractor had a company representative come and look at it, and the company approved to have the worn places redone. Within another year, the company approved replacing all the flooring because there were MORE worn spots, but I had to buy the new underlayment foam. Armstrong said that they wouldn't so anything more. It is now 1 1/2 years later, and several spots have warped and in other spots the color has come off again. I'll never buy another Armstrong product again.
Here's a picture of my of my "foster failures", Queida. We took her for "just one night" almost 8 years ago.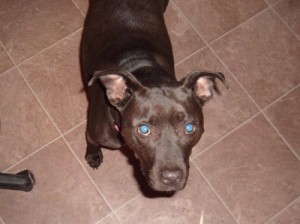 By Dr. Duke (Guest Post)
February 23, 2009
0

found this helpful
Doggie Diapers and Toe Nail Clippers

September 29, 2010
0

found this helpful
If you do get bamboo flooring, don't get the cheap stuff. It will scratch. Instead, get the strand woven bamboo flooring such as BamStrand.
It is compressed bamboo so it's dense and scratch/dent resistant. It will hold up great.