November 6, 2009
0

found this helpful
I am a BIG fan of Shih-Tzu's and have had a few in my life time. My current Shih-Tzu is a beautiful 12 lb boy named Kooper. They do need to be groomed approx every 6-8 weeks. AND you need to comb them out at least every other day or their hair will mat up. They are noted for being cuddly lap dogs but also playful at the drop of a hat. Very smart too. Another site is the American Kennel Club. They determine what is considered "standard" in the breed -- www.akc.org. Good luck!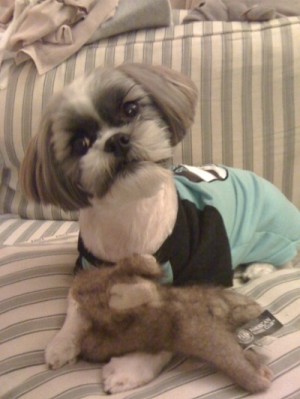 November 10, 2009
0

found this helpful
Ahhh, RowdyGirl, that's a great pic!
Joy, I had a wonderful Shih Tzu named Kiki, who lived to be 15. She was oversize despite purebred: about 25 lbs. Kik retained her playfulness & cute stubborn streak until her 1st stroke, about 1 yr before she died.
Tired of grooming bills, I'd bought Osterizer electric clippers I did the job myself. Not hard, though w/ my severe allergies the hair she didn't shed, when cut, ended up plastered to my face.
As with many purebred dogs, Kiki had some health problems, notably bladder infections throughout her earlier years, & Cushing's Disease later on. Healthy, though, in spite of this. I love Shih Tzus! The very best of luck with your puppy choices. NIca
November 10, 2009
0

found this helpful
Got my Shih-Tzu, Sarsi, when she was about a year old and a rescue, as a companion for my Belgian shepherd mix, Raven (52#). Adult Shih-tzus range from 9-16# and always seem to be a puppy.
They are typically very smart and trainable, if you can stop laughing at their antics. She's learned a lot from Raven, including how to heel; they walk together very well. They also rough and tumble and chase each other, with Sarsi often zooming underneath Raven. Clearly, Raven will never get used to that!
The Shih Tzu needs all of the people in the house to be pack leaders, with the rules of the house consistent and clear. If you allow your Shih-tzu to take over, they often become snappish, bitey, yappy and demanding.
Yes, they have to be groomed every 4-6 weeks. They don't shed but need brushed regularly. The grooming schedule may depend somewhat on the growth pattern of hair on the head and face. Some patterns put hair in the dog's eyes and they must be trimmed more often.
I never had much time for small dogs until my friend got a Shih-tzu. Now I wonder how I got along without her! She's also good with my cats, and often sleeps with Blackhawk--just her size at 13#. Many of Sarsi's movements are catlike as well.
My friend Marge has a Shih-tzu named Muggsy. Because of her back problems, she uses orange tent stakes, dropping them at the site where Muggsy does his business so her husband can find and clean up later. Muggsy quickly learned that the easiest way to announce he wanted out was to come to her with a tent stake in his mouth! My friend Gloria's little Abby learned to ring a small bell hung a few inches from the floor next to the door. My Sarsi goes to the door and sneezes to go out. No, I don't know why! Raven sneees on command. <g>
You will love this breed! These dogs are a constant source of entertainment, companionship, and love. -shoe
December 5, 2009
0

found this helpful
I have 2 purebreds, one is solid black, the other is gold & white. They are beautiful dogs with very sweet natures. Jessie, the black one (very rare for solid black) is two (19 lbs)and is kept in a puppy cut He was given to me when he was 7 mo. He knows where I am at all times...he's right there with me! Lil' Ms. Abagail (14 lbs)will be 1 in January.
I bought her from a pet store and she turned out to have Demadex (nickname red mange). Puppies get this diesease from their momma's. She had to have treatments to cure her skin and all her beautiful hair was shaven off. This cost a lot of money and several sleepless nights. She's fine now but I can never let her have puppies and she can get sick easier than Jessie.
They love everybody, they just love me more than anyone else! They hate for someone to walk past them without speaking!
They both are groomed daily. Jessie's is simple but because I'm letting Abbie's hair grow long she can take up a good bit of time every morning. Jessie does not shed but because of the Demadex Abbie's hair comes out a little easier.
They like a lot of company and will let you know when they think you're ignoring them. Abbie is truly a lap dog, Jessie not so much. Both love kids...very much so!
They are both my babies and I love them dearly. If you choose to buy instead of adopting just be very careful and do your homework. Speak with some good dog groomers in your area. I dealt with the BBB and the kennel club AFTER I bought Abbie. Should have started there! Check out the kennel club's websites concerning the breed...very interesting!