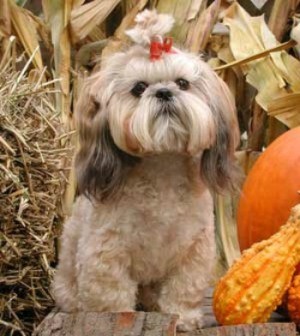 Breed Description:
Shih Tzus have compact, sturdy bodies with long flowing double coats and long facial hair. Considered a sacred animal in its native China, the nimble Shih Tzu was once described as having a lively gait 'like a goldfish.' Bright and expressive, this breed excels at what it was bred for-companionship.
Group: Toy Group
Purpose of Breed: Chinese court dog
Country of Origin: China
Average Size: Shih Tzus range from eight to eleven inches. Shih Tzus range from nine to sixteen pounds.
Color(s): All colors; a white blaze on the forehead and tail is highly prized.
Coat Type: Long, dense, and straight. Daily grooming is essential to keep the Shih Tzu's coat soft.
Grooming: Daily grooming is essential to care for this breed's coat, and the Shih Tzu needs bathing weekly. Wet hair should be carefully blown dry to avoid colds and hair over eyes can be pinned or clipped to aid in vision. Standard care is required for ears, pads, and nails. Eyes should be examined for problems often.
Exercise Needs: Shih Tzus are lively little dogs that easily adapt to apartment or condo life. Vigorous indoor activities may provide an adequate amount of exercise as well as short walks outdoors.
Temperament: The Shih Tzu is a gentle, but energetic, breed of dog that excels at being a loving companion. They are highly intelligent and love to learn new things. This breed is a good choice for the elderly or for families with older children that are not prone to roughhousing. Tzus enjoy traveling and will absorb and reflect the energy of whatever type of household they are a part of.
Common Ailments: Susceptible to kidney disorders, liver disease, eye problems, and umbilical hernias; teeth need regular veterinary attention
Life Expectancy: Can average from 10-18 years. Trivia: The Shih Tzu is often called "the chrysanthemum-faced dog" because of the way the hair grows around their face.
More Information: American Shih Tzu Club, Inc.
Do shih tzus have to be groomed, and if so, how often? Also, do they grow up to be very big? Anyone know average weight and size, or height? Also, how cute are they as adults?
By Joy from Seattle, WA
Answers
November 6, 2009
0

found this helpful
I am a BIG fan of Shih-Tzu's and have had a few in my life time. My current Shih-Tzu is a beautiful 12 lb boy named Kooper. They do need to be groomed approx every 6-8 weeks. AND you need to comb them out at least every other day or their hair will mat up. They are noted for being cuddly lap dogs but also playful at the drop of a hat. Very smart too. Another site is the American Kennel Club. They determine what is considered "standard" in the breed -- www.akc.org. Good luck!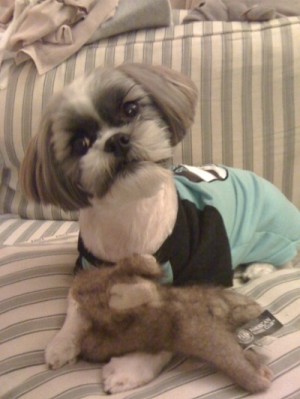 November 10, 2009
0

found this helpful
Ahhh, RowdyGirl, that's a great pic!
Joy, I had a wonderful Shih Tzu named Kiki, who lived to be 15. She was oversize despite purebred: about 25 lbs. Kik retained her playfulness & cute stubborn streak until her 1st stroke, about 1 yr before she died.
Tired of grooming bills, I'd bought Osterizer electric clippers I did the job myself. Not hard, though w/ my severe allergies the hair she didn't shed, when cut, ended up plastered to my face.
As with many purebred dogs, Kiki had some health problems, notably bladder infections throughout her earlier years, & Cushing's Disease later on. Healthy, though, in spite of this. I love Shih Tzus! The very best of luck with your puppy choices. NIca
November 10, 2009
0

found this helpful
Got my Shih-Tzu, Sarsi, when she was about a year old and a rescue, as a companion for my Belgian shepherd mix, Raven (52#). Adult Shih-tzus range from 9-16# and always seem to be a puppy.
They are typically very smart and trainable, if you can stop laughing at their antics. She's learned a lot from Raven, including how to heel; they walk together very well. They also rough and tumble and chase each other, with Sarsi often zooming underneath Raven. Clearly, Raven will never get used to that!
The Shih Tzu needs all of the people in the house to be pack leaders, with the rules of the house consistent and clear. If you allow your Shih-tzu to take over, they often become snappish, bitey, yappy and demanding.
Yes, they have to be groomed every 4-6 weeks. They don't shed but need brushed regularly. The grooming schedule may depend somewhat on the growth pattern of hair on the head and face. Some patterns put hair in the dog's eyes and they must be trimmed more often.
I never had much time for small dogs until my friend got a Shih-tzu. Now I wonder how I got along without her! She's also good with my cats, and often sleeps with Blackhawk--just her size at 13#. Many of Sarsi's movements are catlike as well.
My friend Marge has a Shih-tzu named Muggsy. Because of her back problems, she uses orange tent stakes, dropping them at the site where Muggsy does his business so her husband can find and clean up later. Muggsy quickly learned that the easiest way to announce he wanted out was to come to her with a tent stake in his mouth! My friend Gloria's little Abby learned to ring a small bell hung a few inches from the floor next to the door. My Sarsi goes to the door and sneezes to go out. No, I don't know why! Raven sneees on command. <g>
You will love this breed! These dogs are a constant source of entertainment, companionship, and love. -shoe
December 5, 2009
0

found this helpful
I have 2 purebreds, one is solid black, the other is gold & white. They are beautiful dogs with very sweet natures. Jessie, the black one (very rare for solid black) is two (19 lbs)and is kept in a puppy cut He was given to me when he was 7 mo. He knows where I am at all times...he's right there with me! Lil' Ms. Abagail (14 lbs)will be 1 in January.
I bought her from a pet store and she turned out to have Demadex (nickname red mange). Puppies get this diesease from their momma's. She had to have treatments to cure her skin and all her beautiful hair was shaven off. This cost a lot of money and several sleepless nights. She's fine now but I can never let her have puppies and she can get sick easier than Jessie.
They love everybody, they just love me more than anyone else! They hate for someone to walk past them without speaking!
They both are groomed daily. Jessie's is simple but because I'm letting Abbie's hair grow long she can take up a good bit of time every morning. Jessie does not shed but because of the Demadex Abbie's hair comes out a little easier.
They like a lot of company and will let you know when they think you're ignoring them. Abbie is truly a lap dog, Jessie not so much. Both love kids...very much so!
They are both my babies and I love them dearly. If you choose to buy instead of adopting just be very careful and do your homework. Speak with some good dog groomers in your area. I dealt with the BBB and the kennel club AFTER I bought Abbie. Should have started there! Check out the kennel club's websites concerning the breed...very interesting!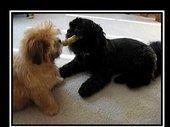 Answer

this Question

...
January 22, 2009
2

found this helpful
We just recently got two female 6 week old Shih Tzu/Rat Terrier puppies. I would like to know something about Shih Tzu dogs? I saw the mother dog and she was beautiful and so docile. I was impressed. Thanks.
Caralee from Rogersville, AL
Answers:
Information About Shitzu Dogs
I had a Shih Tzu for a few years till I moved into an apartment and couldn't keep her. I found her a wonderful family. They are very docile dogs, they get along well with other dogs and cats. Kids not so much, well mine didn't, she never snapped but she would hide. They are prone to seizures, so make sure you keep an eye on your dog. Ours also had allergies, so if you get that problem, a benadryl once a day helped out alot. Good luck, you have a wonderful doggie. (08/30/2006)

By micksgirl
Information About Shitzu Dogs
I want to let you know I have a Shih Tzu mix myself. She's Shih Tzu and Poodle mix. Shih Tzus are well tamed dogs that require lots of attention but, they don't like to be by themselves. One fact you should know is that when feeling lonely they like to chew. Beware of leaving metal around. They love metal. They need to be bathed at least once or twice a week. They love to eat but don't overfeed. They need to be fed only twice a day, in small amounts. Shih Tzus are quiet by nature so don't expect loud dogs, unless she has poodle in her. (03/01/2007)

By red
Information About Shitzu Dogs
I have an 8 year old pure Shih Tzu boy, I have had him from 10 weeks old and he has never been ill other than the odd upset tummy . He is an incredibly bold little dog and will try to play with any dog no matter the size. He never fights, even if a dog turns on him he will not retaliate. He is however, not the most obedient of dogs and I spend most days chasing him around the park to get him back on the lead. He is not greedy, he eats small amounts twice a day. He particularly likes doggy donuts as a treat. I have another dog a Bouvier Des Flanders they get on very well, though they are both boys. As the Shih Tzu breed make such close loving companions they definately do not like to be ignored or left alone and can become quite depressed. They are in so many ways the ideal pet and friend. (03/29/2007.)

By Phoebe
Information About Shitzu Dogs
I just bought my Shih Tzu, Fluffy a few weeks ago. And, already he is showing me how smart and calm he is. He is very cute, and he is currently enrolled in puppy training classes. He is very easy to teach, in just one week I thought him to sit, stay, and come. I used to have a Pomeranian puppy named Copper that I loved with all my heart but he passed away of kidney failure a year ago, this is also a wonderful breed to have. (05/21/2007)

By Cynthia
Information About Shitzu Dogs
We have a Shih Tzu/Poodle cross and she has a lovely personality. She was bought to keep our Labradoodle company. She has fit right into the house and the two dogs are now best friends. She has a gentle nature and so far we have had no problems with either dog around our 10 month old baby. (07/28/2007)

By Harvey
Information About Shitzu Dogs
I have a 1 year, 5 month old pure bred Shih Tzu. She is the best dog I've ever had. Shih Tzus are very calm and docile. They can be territorial with their people and toys and have been known to bite. They require alot of grooming and attention. The are also stubborn at times. Make training exciting for your puppy and it will do better. They look at it as a game instead of training. Hope you have a great time with your Shih Tzu mix. (08/14/2007)

By Misty
Information About Shihtzu Dogs
I have a 2 1/2 year old Shih Tzu named Teddy. Teddy Bear Parks is his full name. He is the best thing that has ever happened to our family. I tell people all the time "The world would be a better place if everyone in it had a Shih Tzu!" They are so loving and loyal. Teddy gives huge bear hugs, it just melts your heart. He has a wonderful personality and can be very spunky. He does have some allergies that we try and keep under control by the type of food and treats he eats. Sometimes they get bad and we do give him a benadryl to help him sleep. He also has "small dog" syndrome, where he believes he is just as big as any dog out there and he is not afraid of anything. I could talk all day long about my wonderful dog Ted but I won't. But, for anyone looking to adopt or purchase one, I stronghly recommend. (10/12/2007)

By mrs.parks
Information About Shihtzu Dogs
Our Shih Tzu came by way of a friend who could no longer care for her. She was used to coming over and playing with our cats and always made herself at home. When we were offered the chance to take her in fulltime, it was a no brainer. She is now 2 yrs old, loves to romp and play with the cats, is loving, and a hoot to play with. She loves to go for rides in the car and everyone is her friend. We have her groomed every 4 weeks in a "puppy cut" and bathe her at home each week. I recommend a Shih Tzu to anyone. She is not a barker, so if you want a watch dog, this breed is not for you. The only draw back we have with her is the fact that she is a picky eater, but that's not a big deal to us. She's spoiled and we love her to death. (03/07/2008)

By Sweetie
SHIH TZI
I have a 2 year old female named Bebe. She was 4 months old when I got her. My boyfriend got her for me as an early Christmas gift. I must say, she's the best gift I've been given. She's well behaved, loves to be affectionate, and is not a big barker, unless she has to go potty or wants undivided attention. She's so smart and was very easy to house train. I have no problem with accidents in the house.
She brings a lot of happiness in my home. If you're thinking of getting one, you will not be disappointed. Very loveable and loves kids. Bebe is also a flirt at times. (06/06/2008)

By Gwen
Shitzu's and children
We have 3 Shih Tzus, a 5 year old we adopted, an 11 month old, and a 4 month old puppy. Our kids are 13 and 11. The dogs love the kids, they do everything the kids do, including going down the slide at the park. The kids adore them, and they adore the kids. They love spending time with the kids and have been excellent from day one. Definitely a pet good for the whole family. (11/01/2008)

By Laura
November 6, 2009
0

found this helpful
My family and I are just about to get a Shih Tzu puppy, but I really would like more information about the breed. How big do they get? How long do they live? How often do they need to be groomed? Are they good with other dogs and children? It would be a great help if you could answer these questions. Thanks.

Alauna
Answers:
Information About Shih Tzu Dogs
We have two shih tzus, a boy and girl, already named Bonnie and Clyde. We actually found them up for adoption on www.petfinder.com, and we have had them for 5 years now. They have loved playing with us and the kids, although my youngest child was 9 when we first got them, neither dog has avoided the kids. These doggies are territorial, but friendly, but they bark if anyone comes into our driveway and when people enter the house, even us. The female does have seizures, and they are increasing so we will be taking her to the vet for medication. It's been very difficult to potty train these dogs, and they seem to love raiding the trashcan for tissues or paper to chew on. Overall, these are the cutest, most lovable dogs you could ask for. (01/24/2009)

By Tracy
Information About Shih Tzu Dogs
I have a male shih tzu. His name if Rudy. He is so much fun. He chases around the house runs like a maniac, then jumps on our laps when he has tired himself out. He does however bark and nip at anyone that comes to the door. We are trying to break him of this. He does seem to be guarding the home and us. He sleeps between us every night, and rarely is a problem. He needs to be groomed every month, so this gets a bit costly. Keeping his eyes, and mouth area clean is a challenge. But he is worth any work that comes along with owning him. He is so loving. (01/26/2009)

By Joan
Information About Shih Tzu Dogs
I grew up with a Shih Tzu pure blood that was given to me for my 6th birthday. The dog is great for kids with allergies to pet dander, like Siamese they have hair instead of fur (according to my doctor). The dog lived about 13 years and was great with kids, obviously. The only drawback that my family experienced with the breed was the fact that he needed to be groomed on a regular basis. A "puppy" cut will help keep the grooming down to a minimum as their long hair will pick up grass, weeds, dirt and such. In my experience Shih Tzus are loving, playful and very protective of their owners, which will include the whole family. All in all, a great choice for a pet in my opinion. (01/26/2009)

By Stephanie
Information About Shih Tzu Dogs
I like going to the site DogBreedInfo.com. Try their website: dogbreedinfo.com (01/27/2009)

By Jpdoughgrl
Information About Shih Tzu Dogs
I got my Shih-Tzu, Presley a year ago. I have had dogs most of my married life, but he has been the best. He is white and caramel colored and is as cute as a button. He is a very mellow little guy who loves everyone. He even talks to me. If one of my other 2 dogs takes his bone or he just wants their bone, then he comes in front of me, sit up on his bottom, puts his two front paws together and waves his paws while he is grunting, whining and making all kinds of different noises telling me what is going on. He is not loud. He loves his bath and I maybe take him to be groomed about every 2 months or so. I now will always have a Shih-Tzu, mine has been wonderful. (01/27/2009)

By rainy21
Information About Shih Tzu Dogs
Our first dog was a female Shih Tzu. She didn't know she was a dog. She lived 14 years and one month. She had papers, etc. It is like she could read our minds. They do require maintenance, but we kept her in a puppy cut. Shih tzu's do not shed. They don't bother people with allergies. They have a great love for their owner and family and are a loyal watchful dog.

We just got 2 more little girls about 10 months ago from GloryRidge.com, I am not advertising for her, but if you go to her website, she has very good information on anything you would want to know about Shih Tzu's. What to do and what not to do and about the breed etc. It might help you make up your mind if this is the dog for you. It is very educational. (03/08/2009)

Information About Shih Tzu Dogs
I cannot imagine life without my 10 year old female Shih Tzu- Baby. She has the prettiest face and ways, its just impossible to not hug+kiss her most of the day. Every morning, she greets me in what my Dad calls a "majestic lion dog manner", a low crouch with those precious little furry paws extended in front where she stretches them out to touch me a few times, like a cat, so cute. I do it back to her as well, ha ha, its our family morning greeting exercise.

Actually she may be more like a cat. She hates other dogs and small children, only has time for adults. And when showing affection, she sidles up close and rubs herself all over my legs before collapsing right on top of my feet in a soft lump.

She follows me everywhere, even waits outside the toilet until I'm done and curls up under the piano stool when I'm playing. Many times, she's tried to jump up to join me on the stool, luckily she's too short to reach, or I'd never get any playing done.

Oh, and as of right now, she's snoring by my feet and making little snuffly, bark noises in her sleep. It can get annoying when I have to work in the morning, since she sleeps in my bedroom, but I love her so much, I find it endearing most of the time. She's spoiled and a very finicky eater, but I think she's the best thing ever. Every so often, I worry what will happen when she passes on. (11/01/2009)

By Kyaah!