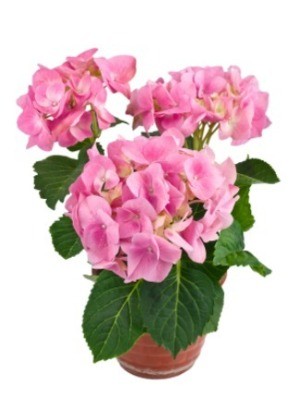 Question:
Can I grow Hydrangeas inside?
Hardiness Zone: 9b
Jane from Huachaca City, AZ
Answer:
Hydrangeas really do not grow well indoors. To perform their best, they need cold temperatures to send them into a period of dormancy. When grown as houseplants indoors, hydrangeas tend to drop leaves and dry out in their pots. Not only that, but rarely will you ever be able to coax one into blooming.
That said, people sometimes find themselves gifted with the kind of small, foil-wrapped hydrangeas that you see at large discount stores, and are often left wondering what to do with them. If kept in a cool room near a sunny window they can be grown inside for a while.
They may also live happily outdoors for a while on balconies or patios, however, one needs to keep a close eye on feeding and watering them under these conditions as they tend to dry out and decline in short order.
In the end, these foil-wrapped hydrangeas will be far better off if planted in the ground. This should be done immediately after receiving one, or as soon as possible in the spring after danger of frost has passed.
Just keep in mind that these "gift" hydrangeas are sometimes bred and fed to achieve one spectacular discount store bloom so they may not thrive as well as most nursery grown hydrangeas once planted in the garden.
Ellen