July 1, 2009
0

found this helpful
It's loving people like you who make the world go round! I'm sure she gives back double the love you give her each day! Thank You for your story. It reminds me of the important things in life, one of them being compassion.
I just checked out the URL you posted. The people who run the blind cat sanctuary are truly Angels on earth. Thank you for posting the URL I didn't know a place like that existed. Right now I'm living "hand to mouth" but when I get some money I'd love to donate to them!
July 1, 2009
0

found this helpful
What a beautiful girl! How wonderful that you saw the potential for her to have a happy life, and for offering her that opportunity.
July 1, 2009
0

found this helpful
I also have a kitten that has no eyes. He was scheduled to be euthanized at a local shelter when he was 5 weeks old. I took him home and he is the funniest cat we have. His favorite game is running up to my desk chair with wheels and riding it around. Here he is when he was little - he's now about 4 years old but he never sits still long enough to get his picture taken. His name is Andrea Bocelli.
Bumper is a beauty!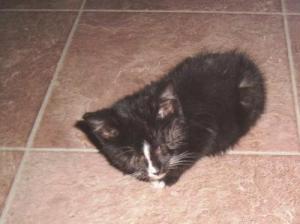 July 1, 2009
0

found this helpful
I had a Himalayan a long time ago. She was long haired & someone thought she wasn't show quality & threw her in the trash at age 4weeks. I called her muff, cause she use to sleep around my neck when she was small. She had no voice & was one of the best cats I ever had. I really miss her.
July 1, 2009
0

found this helpful
Thank you every one that has posted about our little Bumper. She truly is a joy for us.We could not imagine our life with out her. She really is normal in every aspect.She knows her way around very well, and even attempts to climb to the highest peek or her kitty condo.
And as most of these kitties born with no eyes,95% are always deemed not sellable,or they are put in shelters,and not cared for properly. Our little one has no major health issues, other than needing a very good worming when we got her home. But she's good now. And she will make her first long distance trip this weekend, to Upstate NY to visit family!
July 2, 2009
0

found this helpful
Your Bumper is a treasure. We adopted a blind cat from the shelter here in Turkey. Though it is a no-kill shelter, her quality of life was terrible. The moment Brie hears me sit down, she plops her big self in my lap and purrs endlessly. We are blessed!
July 2, 2009
0

found this helpful
These types of stories just squeezes the air from my lungs, tears from my eyes and something I can't describe from by heart. I'll leave it at that.
July 2, 2009
0

found this helpful
God doesn't make mistakes. He made your Bumpter so you can bless each other. Thank you for your wonderful post and mostly for your compassion. I wish I could afford another kitty to keep my Ramsey company when I'm at work, but not right now.
July 28, 2009
0

found this helpful
I just want to thank everyone for their votes on our little Bumper. We just received notification that she has won this contest. Thank you every one. We just love this site, for the gift of sharing & wonderful ideas. The French's and Bumper sends purrs!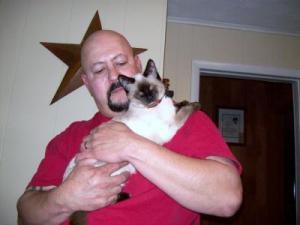 December 8, 2009
0

found this helpful
I loved the story of Bumper. I like that people out there truly can make a kitty so happy. I had one kitten who was born with one eye all the other kittens had one blue and one green eye and this kitten had one eye. We kept that kitten and it played with our dog and had a great life. Glad Bumper is enjoying life.