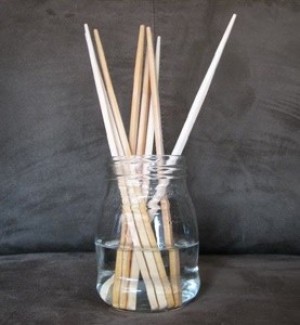 Someone asked a question as a recent TF Craft request about ideas for reusing chop sticks. I came up with an idea and figure I might as well also submit it as a recycle tip.
If the chopsticks are porous and non-coated wood ones you can place them in a jar or vase and add diffuser oil to use them the same way as a reed diffuser. A jar or vase with a smaller opening at the top would be better because it would keep the diffuser oil from evaporating as quickly.
The picture here is a simple, non-fancified example to show you and I don't have any diffuser oil on hand so used water instead. ;-)
By Deeli from Richland, WA
Read More

Comments
These reed diffusers can be quite expensive, but I found a way to do them for just a few dollars and you get the same effect. For maximum scent, make sure the skewers stick out several inches from the top of your container.
Read More...
Does anyone know what kind of oil is used in the reed diffuser bottles? I've found sets, but would like to refill the bottles with the bamboo reeds already in them. My oil ran out. Can I use Potpourri oil, or something similar? Thanks.
Kim from Crawford, CO
Answers
February 13, 2009
0

found this helpful
Haven't done it myself but I am pretty sure you can use any diffuser, potpourri or permune oil ...
You could also make creative sets of your own with narrow vases, small glass juice bottles, etc using bamboo cooking skewers that are really inexpensive and found in almost all grocery stores in two different lengths :-)
February 15, 2009
0

found this helpful
Diffuser oils are sold cheaply at San Fransico Herb & Spice Co (in fact, all of their products are wonderful). They sell everything you need to make diffusers. Their oils are top quality, & will state what they consist of.
March 23, 2009
0

found this helpful
REED DIFFUSERS
Willow or rattan reeds, purchased at your local craft store
A small vase or jar with a narrow opening
Essential oil
Inexpensive Vodka
A light vegetable-based oil such as safflower or sunflower
Glass beads, optional
Fill the vase about halfway with the vegetable oil, and add 15-20 drops of your favorite essential oil. Add a teaspoon of inexpensive vodka. The high-proof alcohol content in the vodka will help emulsify the oil and water together, and will help with rapid evaporation. Rubbing alcohol is not a good choice because the alcohol content is not high enough for this purpose. Shake gently to mix. Stand the reeds in the vase.
You can adjust the amount of essential oil to your liking, but remember a small amount usually goes a long way. If you use a clear vase, you can add small glass beads for a bit of color. Remember to flip the reeds occasionally to recharge the scent.
I also found an article that mentioned that you could use bath oils or mix scented oils with baby oil.
November 8, 2009
0

found this helpful
The discount stores that I shop in have the reed diffusers, potpourri oils, and potpourri all next to each other and they are all the same scents, so I would assume you can use them.
October 4, 2013
0

found this helpful
Kim, most of the discount stores in Delta have the small bottles of diffuser oils to use in these.
Answer

this Question
How do you make reed diffusers at home? I love them but they can be expensive for the whole house.

Linda from Lewes, DE

Answers
By KarenFaye (Guest Post)
September 22, 2008
0

found this helpful
I take a pretty bottle and add a few drops of perfume oil and some water. For the reeds: I buy wood skewers and clip the pointed ends off. I have the scents I love and each diffuser costs less than 50 cents.
September 23, 2008
0

found this helpful
Wow, Linda! You must have read my mind ... lol I was thinking that I wanted to find a way to make my own reed diffuser today. Here's is a site that I found: www.bigbigforums.com/.../595825-make-your-own-reed-diffuser... I hope it works for you. Now, where to find reeds in the Netherlands....lol (for me)
September 24, 2008
0

found this helpful
www.sfherb.com/ This is a wonderful store that sells almost everything you need to make reed diffusers (reeds, essential oils, carrier oils, etc.). They also sell ingredients for potpourrie & other things & even supply the recipes. I love their spices & nuts. The walnuts are halves, not little pieces & are the freshest.
By Dilworth Granny (Guest Post)
September 24, 2008
0

found this helpful
I buy small jars at the dollar store, nice smelling liquid pot-pourri and cut the pointed end off bamboo skewers. If you need to fill in the top so it's not so open, use a cork and either poke the skewers through or cut a large hole in the middle. Costs about 1/8th of the packaged diffusers and you can use any "flavor" of liquid.
Answer

this Question
Does anyone have instructions for making room diffusers from wooden skewers in a bottle of scented liquid, similar to reed room diffusers?

Marie from Fennville, MI

Answers
April 10, 2007
0

found this helpful
I know which ones you are talking about. I had one on my screened porch and it spilled when the wind blew :-(
The good news: I found that it was oil-based! You could most-likely make it with an oil base(sunflower or vegetable oil, something neutral) and some essential oils.
good luck!
April 10, 2007
0

found this helpful
hi marie! I'm so excited reading your request i found out we're neighbors! I work in Douglas (at Demonds) and I live in
South Haven! I was interested in these diffusers also so i did some research at Associatedcontent.com use their search for bamboo diffusers. I think it would work with bamboo skewers and fragance oils. I'm going to try it!
Answer

this Question
How do I make the base for the fragrance oil used in the reed diffusers?

P Sanders from Deep South Mississippi

Answers
December 17, 2007
0

found this helpful
Sorry davlin75, I've not made any. I was just browsing a site, read how they made copies, then read this question here. I'm sure there are several ways to make them, but this was how someone at one site made copy-cat ones.
By Sally E. Greer (Guest Post)
September 23, 2008
0

found this helpful
HI All..Its not alcohol, that is used in the Berger lamp recipe that I have for the fragrant lamps. I had to buy the blank base then add my oil to make up my fragrance for my reeds. Directions on bottle to how much ratio base to fragrant oil. I gave up on lamps as the stones were always getting clogged even after setting in alcohol to clean them. They worked great in the beginning when new. Now I'm into the reeds.
Answer

this Question