April 27, 2006
0

found this helpful
Paint horse fencing along the bottom part of the wall.
By Patsy (Guest Post)
May 1, 2006
0

found this helpful
How about hardwood floors (barnfloor). A wooden bed. Mint green walls, with wooden trim in corners & top of walls. A paper border about a foot down from the ceiling, with horses/ponies on it. Pictures of them on the walls as well, with lots of grass in the pictures & maybe flowers (wildflowers). Have some wildflowers, real or silk, in vases in your room. Have real horseshoes over the door & windows.
By LORI (Guest Post)
May 2, 2006
0

found this helpful
In your browser line on your computer, type in the name WALLIES and check out their site. They will also send you a free catalog. I ordered the horse wallpaper murals from them for my computer room. They are probably about 28" tall and come in a set of two. They look great and all you have to do is wet them and press them on the wall and they don't come loose.
I have them plus a border that I chose to put up by the ceiling. Lots of compliments and some friends even copied my theme. You will love them. They also have many different themes for whatever you need. Enjoy!!
By jmz2005 (Guest Post)
May 2, 2006
0

found this helpful
my idea was the horseshoe, maybe u could clean some up and put pictures in them to make unique picture frames
By Michelle (Guest Post)
March 7, 2007
0

found this helpful
We just did this in our little girl's room. We painted it pink and put up a jagged edged picket fence wallpaper at the bottom of the wall. We also put string lights with horses and cowgirl hats around the ceiling...available at Target. I ordered the "Pretty Pony" sheets from The Company Store and just use a quilt with it. Her room is adorable. We also put down laminate flooring. She has a loft bed with a play space underneath where she plays with her dollhouse and horses. Target also has some other accessories that are cute like a "Cowgirl" hook for hanging hats or necklaces.
We also put up a picket fence shelf to hold other things. I used a Taupe curtain for her window, that I altered to the look I wanted. It was a simlpl tab top curtain from Big Lots. I ironed pink ribbon down both sides to be able to tie it up...so that it is more like a shade. I also tied pink toole bows at the around each tab at the top. The colors look great together. Hope that helps.
By Sarah (Guest Post)
July 9, 2007
0

found this helpful
This is just me but I think that a good wall color for a mountain/horses theme bedroom would be dark green, maroon, or beige. I would include lots of horseshoes and a wooden-stlye bedframe and bedside table. Maybe even some metal wall art or something.
By Cheyenne (Guest Post)
October 18, 2007
0

found this helpful
I think you should get a horse mural and put it on the wall where the bed would go. Paint the walls a nice light brown color(depending on what the mural looks like) Get western type bedding. There is furniture that is made of logs. Its really cool. So use log headboards, dressers etc. Hardwood floors would look really nice.
On top of your door put an antique horse shoe. Thats what I did and it looks really nice. For a fun craft, paint over your window or wherever "A Cowgirl At Heart" in black. Make it in a fun font though. Have your closet doors and door look like a stall door.
By megan (Guest Post)
April 16, 2008
0

found this helpful
What I did is I painted my room brown and I got a horse themed blanket Then above my bed, I put cowboy boots. Then on each side of the boots, I put spurs.I got an old like antique saddle and put that on my saddle rack. I put an bridle on the wall above the saddle and I put bits on each side of it. That looks really cool. I have a big mirror and on the top corners, I put spurs on them. In the middle of my room, I have a long white furry rug. Make to sure to get like a western bed or a log bed, and I painted my closet door like a barn or stall door it turned out great.

April 20, 2009
0

found this helpful
First thing is first- go to this link... www.target.com/.../185-7864714-1277368?ie=UTF8&frombrowse...
If you want, you can take the colors from this bedset (after buying it, or even without buying it) and use them as your main colors for the room. On the wall, paint some clever horse saying, or use this one:
"Courage is being scared to death, but saddling up anyways." or "Cowgirl at heart!" With creative writing. Paint the closet door as a stable or barn door that still coordinate with the bed set's original colors. At the top corners of the window, put horseshoes painted one of the main colors. Above the bed, hang a coat hanger (the four pronged one is best) and put two cowboy hats on the edge hangers, and two ropes on the two middle ones.
At target and walmart, there are also curtains that are the main colors. Use these, and get some horse shoes and put them on the inside of the window sill, facing outwards with the two ends. You can pull the curtains back and stick them in these- they hold them back perfectly.
Wall pops are good too, but don't cordinate these with the bed color. Get black ones, it gives the MOST exciting touch to the room, especially a pink or lime green wall. Have some throw pillows that have horses on them, and to add a nice touch you could even sew (or stitch) on rope around the edges. A pair of pink of lime green boots are GREAT to put beside the bed.

April 13, 2010
0

found this helpful
Just looked into this myself and discovered GREAT easy breezy ideas. If your child is likely to move into the next stage and not want something too kiddie;
1. The picket fence idea is great for a headboard.
2. Go with rustic color wall paint and affix rope in a swirly loop fashion peppered with horseshoes in random angles.
3. Also you can dedicate one wall to horses and use a wallpaper mural or the horse decals, which are appliques that are easy to remove.
4. Another clever idea I stumbled across was finding an old boot, place a cheap vase in it, and fill with silk daises or real ones!
5. Lastly, which I too will likely use, is locating brass rings and letters, and using your child's initial place the letter in the ring and affix to closet doors or headboard.

January 15, 2011
0

found this helpful
My daughter loves horses, but she also likes bright rainbow colors and peace signs. So, we are going to use bright colored bandanas and old jeans that are torn up to make pillows, cover her cork board with a bandana and paint the frame of it a bright color. I am going to paint an outline pic of a horse in hot pink. We googled "horse stencil" to find that. We call her room "The Funky Cowgirl" I am building her a loft bed that stretches completely across the room (it's only 9x9) and we can have "play area" above and below. I do like the idea of the horse shoes that others have listed. I think I will use that. Thank you! :)

January 16, 2011
0

found this helpful
Ideas that I use for my Horse Crazy Bedroom:
1.) Your walls: I have a friend who plasters horse posters and cut outs from magazines all over her wall (and roof!) I also did that, but then I moved house and now have wooden walls, so now I can't cover my walls. :(
Instead I am putting together a big collage. I have a couple of massive frames that I will fill with pictures of my horse, my favourite horse breeds etc. I also cover my door with posters of horses but in a nice and clean manner. :P
2.) Your bed and other furniture: I have a white rearing horse on my duna with matching pillows. I also have a couple of extra pillows that also have horse pictures on them. A throw will usually sit on my bed as well along with some plush horses. I have to rotate these plush horses because they don't all fir on my bed! If you have a headboard you can put a western hat on it, or hang a crop or have a horse shoe attached to it. I don't have a headboard so I can't use these ideas myself. :(
If you have a bed side table next to it first place some essentials on it. I am a teenager so I can be quite messy at times but when my room is clean this is what would usually be on my bedside table.
~Lamp (with horse stickers attached to it, you can also glue a model horse to it if you wish.)
~A horse novel or magazines (Horsewyse etc.)
~A model horse or two
~A framed picture of my old riding school pony
A clock is also a good thing to include but at the moment I just use my phone. :)
3.) Extras: Have model horses everywhere, I place mine on my desk, bedside table, on my wardrobe etc!
Horse shoes and old tack can also look great! Hang up a horse shoe (the lucky way up) and include an old saddle in the corner of your room. Or have a bridle hanging on your doorknob.
I got an old cardboard box and cut out pictures from magazines (horses) and stuck them all over the box. I put this on my floor and keep all of my horse magazines in there. :D
Have a pin up board that includes pictures from magazines, pictures of you and your friends riding, contacts, timetables, when your horse needs a vet check next etc!
I also put extra posters on my wardrobe, it has a mirror attached to it so on my mirror in the corner in a plastic snap lock bad I have my horses baby tooth, his ad that was in the paper (For Sale Ad), "Eat, Sleep, Ride" bumper sticker, confirmation of the standard bred picture, a rosette (that I made), and a sticker of a horse head. These are all placed neatly.
Extra toy horses can have their own little area, I have a cushion on my floor up against the wall where they all stay. A little herd. :P
You can make a herd with model horses too.
Have music playing, a cool idea is to go onto the internet and get all kinds of horse WAV files and put them onto something like movie maker, then burn it onto a disc and have it playing in your room. You will feel like you are in the stables 24/7!
On your door (the outside of it) you can have a "do not disturb" sign with horses on it. Or a sign saying "out riding". I also put up a caution horses road sign that looks awesome!
I also have a bookshelf that is dedicated to my model horses (such as Breyer, Schleich etc.) I show them so they have their ribbons there also.
On my desk shelf I have some awesome western riding boots that look great! Another idea is to have a "Horse of the Week"! I have a mini mini chest of draws that I stuck a label on it (Horse of the week) and every week a new model horse goes on it. :)
So have I given you enough ideas? If not just ask me more questions. :P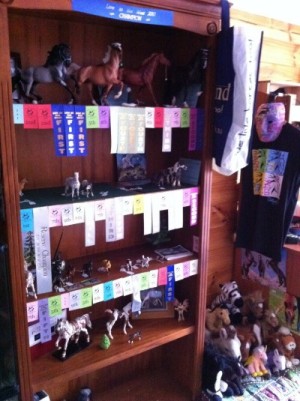 *I think that you could get one of those little windowsill boxes and grow some grass in there for your horse figures to roam around in. You could paint the outside of the box like a fence too.
*If you have a more rustic or more western, wooden type bed, then you can either put it against the wall and lay a pretty big piece of smooth green turf underneath it and bordering it, use either picket fencing or plain wood fencing. To leave that area, you can insert a little gate that you can use to go in and out. You can do this with the whole entire room(floor). *If you're renting a home or cannot make permanent changes to your home, here's what you can do: If you like to paint or you're really good at it, then paint your walls. Then when you leave that house, just repaint the walls the color that they were when you arrived.
* If you like flowers, but don't know were to put them, get an old boot and stick in a small vase and put in a silk flower or a real one.
*After you don't need your old horse calendar, cut of the pictures and make a huge collage on a huge piece of card board. If you have many many pictures, then get a piece of cardboard the size of your wall and make a wall collage!
I hope that all of these ideas help you.
You can also use an old barrel for your dirty laundry too.