Some people have labeled them victory gardens. Others call them recession gardens, crisis gardens--even survival gardens. No matter what you call them, industry surveys are showing a double digit increase in the number of folks starting vegetable gardens this year. If you want to jump into the wonderful world of gardening, it's not too late. There is no better way to increase your health while stretching your food budget dollars! Here are a few important first steps to getting started.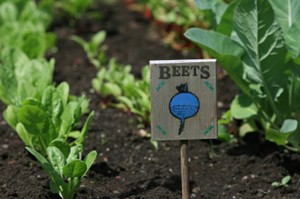 Find Your Hardiness Zone
Finding your USDA Hardiness Zone is a key first step to planning a successful garden. The USDA Hardiness Zone Map is divided into 11 different zones based on the average coldest temperatures for each region. When shopping seed catalogs and reading plant labels, hardiness zones are listed to help you avoid planting flowers and vegetables that can't manage your region's temperatures. You can find your USDA plant hardiness zone here:
Know Your Frost Dates
Knowing your last average frost date (in the spring) and first average frost date (in the fall) is vital to when it comes to planting and harvesting your vegetables. Nearly all vegetables succumb to frost, so knowing when it's safe to plant and when to provide plants with frost protection are important. Every vegetable variety needs a certain number of days in a growing season to reach maturity. The number of days between your first and late frost is the approximate number of days in your growing season. Visit the National Climatic Data Center to find the freeze/frost probability tables for your state.
Choose Your Crops
Once you know your hardiness zones and first and last frost dates, you're ready to think about what kinds of vegetables you want to grow. To help you decide, answer the following questions:
What do I like to eat? What does my family like to eat?
Which vegetables are the most expensive to buy?
Which vegetables are the most nutritious?
What is my gardening skill level?
Do I plan to preserve vegetables over the winter?
The following crops are considered some of the easiest to grow for first time gardeners:
tomatoes
green beans
peas
cucumbers
squash
carrots
beets
radishes
peppers
salad greens
herbs (parsley, basil, and chives)
All of these crops can be grown from seed, which is the most cost-effective way to garden. If you're in a cooler zone, you may want to get a jump on the growing season by buying seedlings from nurseries or garden centers that can be transplanted.
Select a Site
Now that you have decided what to grow, you need to decide where to grow it. Do you want to grow your vegetables in containers on the patio, build some raised beds, or break ground on your first garden plot? Whatever you decide, it's always a good idea to start small. As you gain skills and confidence you can continue to expand your garden.
Most vegetables need a minimum of 6-8 continuous hours of sun per day. The site should be somewhat protected from wind, and offer good drainage. You'll want to plant taller crops on the north and west sides of your site to avoid shading your shorter crops. Sketching your plans on graph paper may be helpful at this stage in your planning.
Gather Some Tools
You don't need more than a few simple tools to get your garden started.
Garden shovel/spade: digging, turning over soil, and cutting sod.
Hoe: weeding and aerating the soil.
Metal rake: smoothing and leveling soil.
Trowel: spot weeding and planting seedlings, container gardening.
Twine and wooden stakes: marking and laying out rows in garden beds.
Buying brand new quality tools is a bit of an investment. Good tools stand the test of time, and you can usually save yourself a lot of money by picking them up at auction sales and flea markets.
Get a Soil Test!
To grow vegetables, garden soil needs to be loose and crumbly to a depth of at least 12-18 inches. It should contain plenty of organic matter, provide good drainage, have pH levels in the 6.2-7.0 range, and be safe for planting edible crops (low in heavy metals). To find out what your soil does and doesn't contain, contact your local county extension agency about information on obtaining a soil test. They will give you instructions on how to collect soil samples (it's easy!) and where you can send the sample for analysis. You'll save yourself a lot of time and frustration if you do this before you plant your first seed. It takes 2-3 weeks (and around $15) to get detailed results on what, if anything, you need to add to your soil to have a successful garden.
Good luck!