The first picture is of Chica sitting on top of her brother, Taco, in a cookie tin. This was taken when they were puppies. They are a mix of rat terrier and Manchester terrier. Chica was the runt of the litter.
They are now 13 years old and both quite loved and spoiled. Chica lives with my mom, and Taco lives with us.
After my Dad died, my mom wanted a companion, and then couldn't resist getting a puppy for her grandsons also.
The second picture is of Chica eating corn on the cob at the table. She is on a strict diet, but gets veggie treats such as carrots. She will also eat sunflower seeds that the birds knock out of the feeders.
Taco is the fastest dog in the neighborhood and loves to run and climb. There is not a fence that can keep him in, but he sticks close by our country home.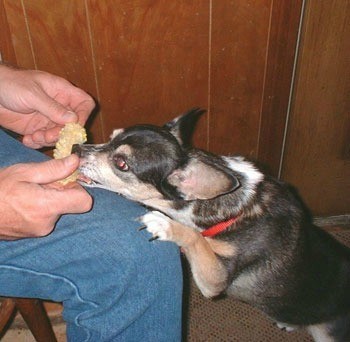 By Paula from Crawford, TX