April 15, 2013
0

found this helpful
Best Answer
Omg, this actually works. I just moved a few months ago and have terrible water (even though we have a sofener) that has turned my hair from pretty blonde to disgusting, limp, orange brassy hair. I was pretty skeptical of some of the crazy Internet "fixes" but I was at the point today of chopping it off or dying it brown. It was really depressing me.
Anyhow, I did a test section and it worked. Then I did the rest of my head. No more rust! Back to blonde! Going to invest in a shower filter too, but at least this got me back to blonde!
Thank you Kool Aid! I will also mention that my natural color is light brown, my blonde color is from highlights in case you're wondering about color safeness.
Worked great for my hair although I don't know if it would have the same effect on darker hair. I feel so much better! Plus, all the tackiness and dullness is gone, my hair is light and fluffy and shiny (and did I say blonde?!)

February 25, 2014
0

found this helpful
Best Answer
I moved in with my boyfriend in Wasilla, Alaska 3 years ago and his ridiculously iron-rich well water turned my blonde hair bright red. It was depressing frankly and even the super-pricey salon fix only half-worked and did not last. Then I saw this online and tried one more time.
I started this experiment with Country Time Lemonade Mix thinking one brand as good as another and pasted that on. A sticky mess and terrible disappointment! My friend laughed at me, wow, you really are a blonde and steered me toward Koolaid Lemonade packets sans sugar. It worked. It freaking flipping worked! I am joyful.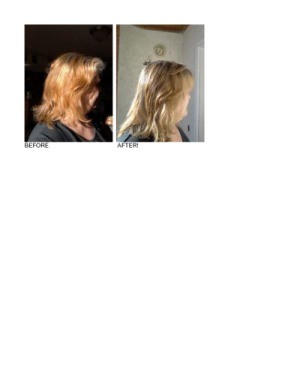 April 6, 2011
0

found this helpful
This works! I have light brown hair that I heavily highlight til I am just about blonde on the top. I have had this icky water for 11 years, so I knew it was going to happen. I have used the Malibu 2000 and the crystal ion from sally's at home with not much luck. The ones in the salon are okay, but quite frankly I am frugal and do not even get my hair colored there, I do it myself.
The mixture does burn and itch, but it works. My husband thought I was a frootloop, but the results are amazing!
I would do a follow up with deep conditioning and try to wet your hair with distilled water, so that your iron laden water doesn't sit in your hair.
Looking at the back of the kool aid package, there is citric acid, lemon juice solids, and ascorbic acid, isn't the last one in Malibu? There is also salt in it, so that is why you need to condition, of course I have bleached hair -frost n tip- so it affected my hair more. Good luck!

July 4, 2013
0

found this helpful
My hair is a rusty mess. I had beautiful bleach blonde hair until I moved out into the country and the rust ruined it. I go into a big depression over my hair and i don't know what to do. Any ideas?

September 27, 2013
0

found this helpful
Everyone keeps saying be careful the home remedies can turn your hair orange. I am a brunette who lives in the country. We have a water softener and use rust away salt. Ever since we moved here (last July) my hair is orange!
It almost looks blonde on the ends! My hair use to be healthy, and so dark people said I had black hair! Now it's frizzy and looks like rust! Is the OTC or home remedy going to make it more orange?

July 16, 2020
0

found this helpful
Same here. I had bouncy blonde hair with lovely natural curls until I moved to the country. I was going to just cut all of my hair off and buy a wig. But I decided to use vinegar in my hair.
I pour the vinegar on my hair over a basin. Then I soak a towel in vinegar and wrap it around my head. I wait awhile. Then wash my hair.
I do this about three times and now it's fine. I put filters on my showers which help. But I find the water filter on my refrigerator to be the best for washing hair. Fill a pitcher up with refrigerator filter water and you'll have shiny blonde hair again.