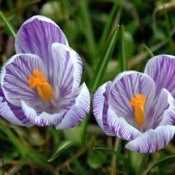 Botanical Name:
Crocus
Life Cycle:
Perennial bulb
Planting Time:
Spring or fall, for blooms in 4-6 months.
Height:
3 to 6 inches
Exposure:
Full sun
Soil:
Poor to average, well-drained soil
Hardiness:
Zones 3 to 9
Bloom Time:
Early spring or early fall
Flower:
Yellow, purple, lavender and white blooms
Foliage:
Green
Propagation:
Corms
Suggested Use:
Beds, borders and containers
Growing Hints:
Buy spring flowering crocus corms to plant in the fall (or vice versa). Plant in groups of a dozen or more for the best show. Plant them at a depth of 3 to 4 inches spaced about 3 inches apart.
Interesting Facts:
The small red parts in the center of each crocus sativa bloom are the source of saffron; the spice used to add delicate flavor to dishes or used to color food yellow. To save your own saffron: after your crocus blooms, remove and dry the red stigma from the flower and store in an airtight container.
Note: There are many varieties of crocus. Make sure you have the correct variety, Crocus Sativa, before you try using the stigmas for cooking. Some varieties of crocus are poisonous.