Pack a lunch. Hop the bus to work. Drive a modest car. Walk when you don't have to drive. Hang your clothes on the line.
Perhaps not, someone might think you're poor.
It's strange the attitudes that surround thrift today.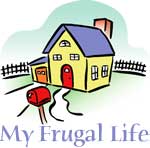 Little respect is given to the idea of getting by with only what one needs, and indulging only on special occasions. What's more, pity is showered on those who don't already have everything they've ever wanted. Too often, the goal is simply to acquire. More. Better. Now. Sophisticated advertising campaigns feed the myth that delayed gratification is a symptom of not valuing yourself as a person. "Because I'm worth it," is the slogan that springs to mind. But really, people deserve better. And so does the planet.
Until recently, artificial economies have bolstered runaway consumption, but now the bills are starting to roll in. Consider the numbers. As University of Toronto philosopher and Globe and Mail columnist Mark Kingwell wrote earlier this month, while per capita disposable income has risen 130 per cent in the last 40 years, personal consumption has outstripped it, rising 140 per cent. At the same time, personal saving has declined two thirds and consumer credit per household has risen 150 per cent. Over the years, crutches were created to "keep up appearances" so that people could have as much, if not more, than they did 40 years ago even though there's significantly less money in the bank accounts. Housing is a prime example. Because many people can no longer save the money for a down payment on a house, the Canadian Mortgage and Housing Corporation relaxed rules so that it's possible to get a mortgage without a down payment. Dismissed is the possibility that perhaps a person who can't save $20,000 shouldn't buy a $400,000 home. And though the ideal world would make home ownership possible for all, there's something worthwhile about encouraging a person to earn the privilege. And as the recent U.S. sub-prime mortgage crisis has shown in painful relief, everyone pays eventually.
There is indication, though, that a shift is in the works. Forty-five years after Rachel Carson's book 'Silent Spring' launched the environmental movement, the push to halt environmental destruction has gone mainstream. People are embracing new ideas, and new ways of living. Recognition is being given to the idea that the land, the oceans, and the atmosphere are not trash dumps. Conservation is being seen in a new light.
And perhaps, some day, so too will thrift.
Rocky2 from Agassiz. British Columbia, Canada
Do you have a frugal story to share with the ThriftyFun community? Submit your essay here: http://www.thriftyfun.com/post_myfrugallife.ldml