They call me "Frugal McDougal" or sometimes "The Coupon Queen." Taking advantage of the many kinds of coupons available these days saves more money than one might think, and, like any thrifty housewife, I make good use of them.
Frugality can take many forms besides coupons, however.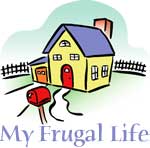 My husband and I have located several used clothing and furniture stores during our years in Phoenix. One such store is a genuine treasure trove, where all items are of excellent quality. Their merchandise includes clothing, furniture, and other household items. If they receive things that do not meet their standards of quality, they simply donate them to other thrift stores. Recently we were looking for a new sofa, and we thought of this store immediately. Much to our delight and amazement, we spotted a beautiful sleeper sofa which looked brand new; it was our good fortune to be there for the "special weekend sale." At 20% off the already reasonable price, this was a real steal. Thrift stores are excellent places to practice one's frugality. There is a store here which, on every Monday, sells everything with a certain colored tag for just 99 cents. Expensive big-name brands are a common find. Naturally I go only on Mondays and seldom leave empty-handed.
My husband always heads for the furniture department in thrift stores. In the last five years, he has purchased at least a half dozen lamps and has repaired or modified them. Many types of tables, chests, and bookcases are on sale, and -- if one finds a bargain with the right color tag -- well, you get the idea! One does not have to run out and purchase some shiny NEW piece; fixing up a bargain not only saves money, but it is fun and is a source of pride and accomplishment. Once in a while a shopper is lucky enough to find something incredible, such as a dresser which had been assembled incorrectly; my talented spouse made a few adjustments, and voila! Our bedroom now boasts a lovely new dresser ($39). We went through our house the other day and counted 14 pieces of furniture we had found at bargain prices! Yet another way to save there is by giving a donation of your own used items and receive a coupon to use on the next shopping trip.
There are so many kinds of coupons just for the taking, grocery and restaurants give them out all the time, and truly, one is crazy to ignore them. For grocery coupons, I go on the "double" or "triple" days, and it is amazing how the savings add up. I have a small accordion-type holder for grocery coupons, with categories for canned food, cleaning items, drugstore needs, and so on. On shopping day, I get out the coupons I want to use and clip them to my grocery list. Having them organized saves time when I'm shopping.
Shopping carefully can save big bucks over time. When I buy personal care items, such as toothpaste, soap and the like, I usually buy extra if the item is on special. I also watch the expiration dates on those things I have in the pantry. Finding a good sale is great, but over-buying is not a good idea. When looking at the various cuts of meat, I often select cheaper cuts, such as beef short ribs, for use in the crockpot.
Seldom do we dine out unless we have a coupon, which we hoard religiously. I keep all restaurant coupons in a manila folder in the kitchen, so that they are always handy and available.
I never object to being called "Frugal McDougal" and love being the Coupon Queen, because following a thrifty lifestyle makes a whole lot of sense. Besides, we have fun searching out the bargains!
By Annabelle - Phoenix, AZ
Do you have a frugal story to share with the ThriftyFun community? Submit your essay here: https://www.thriftyfun.com/post_myfrugallife.ldml