February 17, 2010
0

found this helpful
Drill holes in them and make jewelry! I recently saw something using painted dominoes. Can't recall what the project was. If it comes to me, I'll let you know!
February 21, 2010
0

found this helpful
You can make stretchy (or non-stretchy) cuff bracelets, or charm bracelets, with them- for the cuff type, drill holes in the long sides, 2 per side, and connect either with large jump rings, or weave with stretch cord. To make charms, drill through the middle, top to bottom (the long way) as far as you can, then turn it around, and drill from the other side, to meet in the middle.
Thread this onto a long headpin, create a loop, and viola! You have a fun and funky charm!
I'm not having much success with adding photos, so check these out: http://www.ecle m/cat_domino.cfm - none of those designs look overly difficult. Also, have a look at http://www.cele -ornaments.shtml - they have some really beautiful ideas for making them into pendants and decorations. Have fun!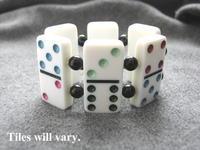 February 22, 2010
0

found this helpful
If you find yourself at the Dollar Tree and can get one of those flat wooden frames, you can cover that with the dominoes. Or, you can E6000 glue them to a cardboard frame and make your own. Glue some magnets to the back for neat refrigerator fair!
February 23, 2010
0

found this helpful
I bought some domino charms at Christmas this year. They were painted on one side, but still dominoes on the other.
I have no idea how they did it, but I thought they were just wonderful.
February 26, 2010
0

found this helpful
I recieved an ornament made from a domino-all it was- one domino, take a length of ribbon to go around the edge and long enough to tie to hang on Christmas tree. You can gut out any small Christmas picture and glue it to the back side. Made me wish my kids had played with dominoes.