By guest (Guest Post)
November 21, 2005
0

found this helpful
I also have a Tortie that we got from a shelter, her name is Star. Your Destiny looks beautiful! My Star is the most affectionate I have ever had and I've always had cats. She's like a person is some ways.
By guest (Guest Post)
November 21, 2005
0

found this helpful
Stacey, your story about Destiny is precious, and
I know just what you mean about her filling in the
vacancy left by the loss of your dog. I'm an old
lady, but I went through a similar lost feeling when
our last kitty-cat went to the Rainbow Bridge to
wait for us. It very nearly broke my heart, and I
really didn't want to go through such a loss again.
My husband and I agreed not to take any more pets,
since we're 70 years old and a pet is a big commitment to be taking on at this age.
Then we "met" Catty-Kit one day. He is half Maine Coon tabby, and half SealPoint Siamese, and was only a tiny baby. He chose us, and there was nothing
we could do but bring him home. I bless that day
every time I think about it. He has filled our lives
with more love and pleasure that I would have
thought possible. Like your Stacey, Catty-Kit plays
his little kitty-cat games. He loves tag, hide and seek and Peek-A-Boo most of all, and we spend
hours playing with him.
He'll be a year old in February, and he's a big guy now, but he's still my baby, and wants to be rocked
to sleep... I'm so grateful for him and I'm sure
having him will add years to our lives. Having
a warm cuddly fuzzy to love and care for will do that.
Thank you for sharing your Stacey with us.
Julia in Orlando, FL
November 21, 2005
0

found this helpful
Destiny is so CUTE! I love tortie cats. My AllieMae,
was a tortie and I had to put her down in 2004.
I have not been able to get another cat, so instead
I have one (rescue) JackRussell Terrier who is so mellow and one (gift) crazy Yorkie and they are my
blues chasers. Cookie is the JRT is so pretty and sweet and loving like no other dog I have ever known. Oso the yorkie loves on me when he wants
love only then (spoiled baby) I read your story and
you and I went opposite directions. Glad to know
you have Destiny.
By guest (Guest Post)
November 21, 2005
0

found this helpful
aww, precious kitten. I love kittens and cats. If it says meow, I'll love it, as my daughter tells me. Cats are just wonderful. If you can get a cat's love, you know you are one special person.
November 22, 2005
0

found this helpful
Destiny is so pretty and I'm glad that you two have each other. They make such a huge difference in our lives, thanks for sharing her story with us.
November 22, 2005
0

found this helpful
Oh, thank you so much for your feedback everyone. That's really cool about Catty-kit. It's amazing what an animal can do for us. They're more than just pets, they turn out to be a real part of the family!
Stacey
By guest (Guest Post)
September 22, 2007
0

found this helpful
I just adopted a darling little Tortie that I named Lindsey. She is one of the sweetest natured cats I've ever seen. I just read online where torties are the hardest cats to adopt. I thought she was gorgeous the moment I laid eyes on her so I don't understand why they are difficult to adopt. Anyway, she is with my one year old black siamese mix kitty and they are doing well. Take care of Destiny, I know you will give her a wonderful life.
By guest (Guest Post)
August 11, 2008
0

found this helpful
I came across this post right here while i was looking online for some tortoise shell kittens for sell. My cat, which was a tortoise shell, the darker shades, like your Destiny, well she passed away August 10th 2008 (she had just turned 3). She had her 2nd litter of kittens which didn't go very good. We were planning on getting her fixed but we had to wait until after she had these. She died of what he said was "milk fever". She was the sweetest cat we had, and we have several.
She was just like a human too. I wish I could find a cat like her again. Maybe all tortoise shell cats are like that. I hope so, I want another one. They are beautiful and unique. Hard to make, and your cat is adorable. =] You are lucky!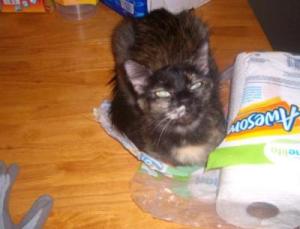 March 16, 2017
0

found this helpful
Hi Stacey I love your Precious Destiny as I love all torties because I had one for 16 years who just died last january 9 2017.Her name is Sheba she was a domestic short haired tortie on the more red and black shade with a white bikini shape under her belly.I am devastated by losing her and up to this minute I can't get rid of the pain I feel in my heart.I got her from Abu Dhabi when I work there given by an american lady when she was a year old due to the fact that she can't take care of her "SHEBA" due to her work schedule.Sheba was born January 1 2000.She had all the tortitude that is described by most moms and dads of torties.She was shy, unpredictable,at times nasty, demanding on what she wants and how she wants things go her way.In short as my husband said I am her slave,and she runs my life not the other way around.But I love her to bits because of all her cattitude that are not really pleasant at times she showed me that she cared so much about me,saving me from bites of snakes 3 times and saving me from fire that started in our kitchen by meowing so loud on my ear while I was asleep and scratching my face to let me know the grave danger.Now my life is empty and even if I have a new persian kitten given by a concerned friend no one or none can replace Sheba in my heart.So Stacey love your precious and enjoy every minute with her so that when it is time for you to part you are rich with memories of her that will last you for a lifetime.I didn't mean I don't love my persian kitten I named silky but Silky is docile and quiet whereas Sheba was vocal and demanding.I am a 66 year old living alone so having silky just quietly play or kiss my cheeks when i carry her is different with sheba who would talk to me regarding all subjects in the world from A to Z.This is how our conversation goes when I'm in front of my pc.Sheba don't sit on my lap I'm busy browsing on the internet,"SHEBA SAYS meow no I will sit on your lap.Ok Sheba you win but behave don't interfere with my typing don't touch the keyboard,SHEBA SAYS MEOW YES I know how to type so type I will and in this matter she also wins and type all the cat words which only an alien perhaps can read qzxydflknzxcc, so whatever that word means I can't find it in any dictionary in any language.Now I am free to sit in front of my pc but i miss the interference that Sheba used to do.Stacey cherish your PRECIOUS DESTINY, SHE IS A JOY TO HAVE I ENVY YOU I WISH I CAN ALSO HAVE A DSH TORTIE BUT THEY ARE RARE HERE IN PHILIPPINES AND VERY EXPENSIVE TO BRING ONE USUALLY FROM USA, I SURELY CAN'T AFFORD IT.