September 10, 2005
0

found this helpful
First of all, are they all neutered? If not, they need to be. It could be a territorial issue and I would talk to your vet about it.
March 4, 2020
0

found this helpful
All my dogs are neutered and they still pee up a table leg. Vets charge way to much.
September 10, 2005
0

found this helpful
Clean the area w/a pet-specific cleaner to retard the scent first. Then put your dogs' food dish where they tend to mark w/urine - they don't like to tinkle where they're going to eat.
You may have to move the dishes more than once to cover the different spots.
By valleyrimgirl (Guest Post)
September 11, 2005
0

found this helpful
Send them outside in a dog run or give some away 'cause eight dogs in the house is too many in the first place.
Put your good furniture in storage or an off limit room until you have no male dogs in the house that like to pee on furniture. Good luck in trying to stop them, cause they have already left their scents all over your home where you can't see or smell it...but they sure can.
By Vic (Guest Post)
September 11, 2005
0

found this helpful
A rescuer with 8 dogs is normal. Give some away is assanine. They are not pieces of furniture to despose of. I really hope you don't subject any animals to your stupidity. There's no reason to put furniture in storage.
I have a male & he lifted his leg to pee on my computer hutch when I 1st got him. I just said no & tossed him outside. From then on he followed my other dogs outside to do their business. I've never had a problem house training a dog. It just requires intelligence & patience.
September 19, 2005
0

found this helpful
Have a water bottle or squirt gun at the ready! It worked for my first dog, they get the message fast
and I never had to yell. If having 8 dogs works for you then fine. Do not be bothered by posts who tell you to give away your dogs. I think if you can manage 8 and keep them healthy Vet, shots and food then fine. I had a dog eat my antique pine chest and the foot of a wooden bed as son never
told me and hid it. So you gotta keep an eye on them.
By Billie (Guest Post)
October 7, 2005
0

found this helpful
I have a neutered dog that 'marked' in the house, so that isn't the solution.
My solution was buying a 'wrap' that goes around the dog. If they 'mark' in the house, it doesn't get on anything, just have to wash or change the wrap. Dr. Foster & Smith sell the wrap by mail order.
By Melissa H (Guest Post)
May 3, 2008
0

found this helpful
I have found this to be a issue with my dog as well. We let him out and he seems to pee on the dining room table leg. I have used a few different chemicals. I will try the dish effect. Of course it could be the other dog around and new atmosphere. We have a chihuahua and a cocker spaniel.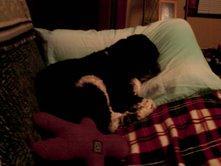 May 24, 2015
1

found this helpful
I have 3 dogs. Great Pyranese, Chihuahua and Chihuahua/Miniature Pintcher mix. Both little dogs are the dumbest dogs I have ever owned, and I've done rescue for 20 years. It's like they are in competition for dumbest dog! We live in the country and they have over an acre to run in. They go out anytime they want, or I put them out a few times a day.
I am almost always home with them. They pee on everything and eat the garbage and then puke it on my bed. Now the chi/pin mix has started getting ON the dining room table and peeing on anything there.....a pile of clothes/papers, decorations, centerpieces, etc. It's disgusting. So if the kids don't tuck in the chairs and I don't catch it in time, he jumps right up there and pees. It makes my husband crazy and we are ready to part with him. We have had him sense 8 weeks old. He is 2. Other Chi is 7. Both fixed. They will do these things with me in the next room. I just want to enjoy a clean house with good dogs and not live in a nasty kennel!
October 3, 2016
0

found this helpful
Your 2 year old is still like a child. Maybe he will out grow it but I would definitely do the squirt bottle thing on him. I have 4 rescue dogs and ALL of the boys who are all fixed have access to outside but STILL pee on my furniture. I am going to resort to the squirt bottle.
They are 12 years old now
Does that make me an abusive mommie? I guess I could just throw the furniture away, and rip up the carpet. I'm kidding but they are like old folks now. You just try. ....that is all you can do. If you love them then treat them like your child or your mother.
November 9, 2017
0

found this helpful
Dog trainers say that when you have a dog who pees in the "wrong" place, put them on a leash attached to you at all times and take them out every hour at first and make a big deal when they do it right. They need this consistency for a week or two to really get it. If you catch them later doing it in the wrong place,don't react, just pick them up and bring them outside and again make a big happy deal when they go. If you react, they will just hide it and do it when you aren't aware to avoid your reaction. They don't know right from wrong, it's just behavior modification, and it's always better to use positive methods than negative ones. If you think the leash method is too hard, then you aren't willing to put in the time to train your dog so maybe you should find it another family if that's the case. Otherwise, yes, it takes some work to help them unlearn those habits..
January 25, 2018
0

found this helpful
No such thing as a dumb dog
May 12, 2018
0

found this helpful
Then you havent met mine
May 12, 2018
0

found this helpful
One out of 4 of my dogs does the same thing! We have to always remember to push in the chairs or else he pees on the table, my dad cant wait to get rid of him now and I dont know what to do to make him stop so we can keep him.