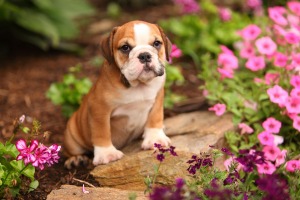 Many, many dogs are walked by my house and lots of them use my flowers and shrubs to relieve themselves. I've asked the owners not to let them, but they seem to think because it's pee it's no big deal. I prune and fiddle regularly, and I DO think it's a big deal touching dog pee. I have some trampled and/or sick looking plants and flowers to boot. Is there something I can put in my beds to deter the dogs since the owners won't respect my repeated requests?
Lisa from Tampa, FL
Answers
December 18, 2008
0

found this helpful
Best Answer
Been there, done that. Some dog owners are so rude, thinking it's their Constitutional right to let their dogs urinate on other people's property, damaging lawns and plants.
What I did was to get red pepper and sprinkle it everywhere I wanted to guard against the dogs. I observed it in action, and let me tell you, dogs do NOT like the smell!
If, for some reason, that doesn't work (wind blows it away, etc.), there are animal-repellents available.
God to Amazon and there are lots of products. Here's the sort of thing I'm referring to:
www.amazon.com/.../B0002AQS0O (Affiliate Link)
By Lilian (Guest Post)
December 21, 2008
0

found this helpful
Best Answer
Put transparent plastic bottles full of water and place them near the flower beds. Dogs will be afraid to see the water reflecting and will not pee in your flowerbeds. Good luck!
By Deeda in Seattle (Guest Post)
December 21, 2008
1

found this helpful
Best Answer
We had this problem, too.We had a huge (Costco-sized) container of crushed red pepper, the large flaked kind, that we never used. I had my oldest daughter sprinkle it everywhere in the areas where we were getting 'bombed'. No more problems! We do reapply once in a while!
Answer

this Question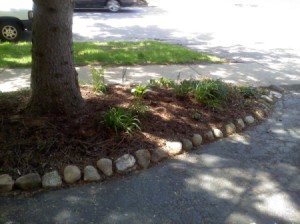 I have a flower bed area between the sidewalk and the semicircle drive. Unfortunately, many people on my street don't seem to care about keeping their dogs out of this flower bed area. They even allow their dogs to do their business (whether it be 1 or 2) right in front of me. I'll even ask that they move their dog over to the devil strip and they don't.
Anyway, I'd like to spray something or put something in my flower bed to deter the dogs from walking through my plants to do their business since their owners seem unqualified for the job. I would appreciate any suggestions. Obviously, I don't mean any harm to the dogs, it's not their fault their owners are oblivious to common courtesies. Needless to say, when my children ask me to get them a dog I answer I'm too busy picking up the mess from all the neighbors dogs. Thank you!
By Michelle H. from Middletown, MD
Answers
May 16, 2011
0

found this helpful
Dogs won't go where fresh water is, put out gallon jugs of water. Looks bad, but works!
May 17, 2011
0

found this helpful
www.homedepot.com/.../Search?keyword=critter+ridder&langId...
Critter Ridder - Basically red and black pepper in a spray or as granules that are safe in flowerbeds, pathways and lawns, and claims to last 30 days, although in the Pacific Northwest I think it lasts about 3 weeks before the squirrels are climbing back up the bird feeder poles. I used the granules to stop my dog from digging when she was a puppy, sprinkled it in the hole she had dug and when she went back to it, she got a small taste and never dug there again. Also have sprinkled it on top of the garbage in the kitchen and although my dog had turned the garbage can over, no garbage was eaten or strewn about the kitchen. I also use the spray on the birdfeeder poles and the top and sides of the feeders. It deters squirrels from climbing up the birdfeeder poles. (It does not bother the birds if they ingest it, they have no taste buds and cannot taste the pepper) It is a natural deterrent, not a poison. It can be pricey, $15-$30 depending on what size and formula you get. The reviews on it are very mixed, so I would buy a smaller size to see if it is effective for you. It works well for me, even with the rain here.
Answer

this Question