December 4, 2008
0

found this helpful
ADORABLE cat! Sounds like he has a great personality! My cat loves to chase after the red light dot from a laser pointer...and she is older, around 7 years old. Try it out with Tony, maybe it will give him a reason to leave his lazy ways behind. Some cats don't like it all, but I swear my cat is addicted to the "red ball" game and whines and bugs me to play it with her!
By lmn95 (Guest Post)
December 4, 2008
0

found this helpful
Hey I have a cat just like yours but he was a stray. Oh if you think your cat is so lazy, my tabby cat with the same orange color is 21 POUNDS!
Good Luck with him! Lauren
December 5, 2008
0

found this helpful
Thanks for the feedback!
I like to think that Tony idolizes Garfield...my kids are very excited that he is a "superstar" on the internet!
Here is a pic of him giving us the mean-face.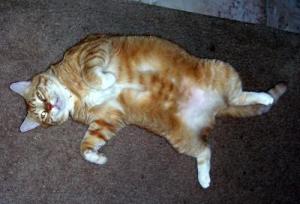 By Paula Jo C. (Guest Post)
December 5, 2008
0

found this helpful
WHAT an absolute doll baby - I bet he has a purr the size of a (big) grown man. We have 6 furry babies since our girls are now married and have homes of their own; of course, they are all spade or neutered and are taken care of better then some humans are.
Yes, they are spoiled BUT they are our spoiled just like your furry baby is your spoiled. Thanks for sharing!
December 9, 2008
0

found this helpful
Oh he is gorgeous I would just spend all day
wanting to pick him up and kissing on him!
The life of a cat. When I had my cat I used
to envy her staying home chasing sunbeams
while I had to go earn her food.
I had two framed sayings on my frig door
one that said
Cat and husband missing!"
REWARD
for return of cat.
hugs &squeezes & kisses to Tony
=^..^=