We had designed and constructed a rock garden pond in one of our flower beds in the front yard a few years ago; the liner got a hole in it and the pond began to lose water.
We took the entire pond apart rock by rock and bought a new liner, dug the pond opening larger and built a dam around the perimeter of the pond to keep the water in the pond. We constructed a small waterfall and a perch for the ceramic frog that "spits." We filled the bottom of the pond with large stones and river rock.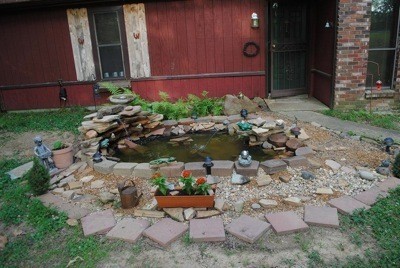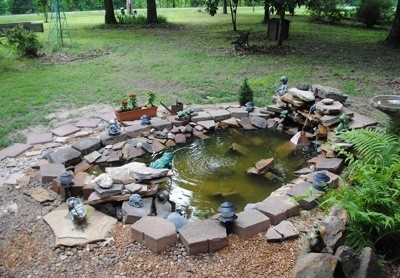 There is a large fern growing behind the pond which gives it color; plus I have a bird feeder with a homemade gazing ball in it; I have 2 miniature spruce trees on each side of the pond in the front with stepping stones in an oval shape going to each tree.
A plastic window box sits on river rock which is filled with bright orange Zinnias; I have whimsical ceramic and resin frogs and turtles around the pond. All the river rock and stones came from my late sister's home in the Ozark mountains which makes it a very special place to visit.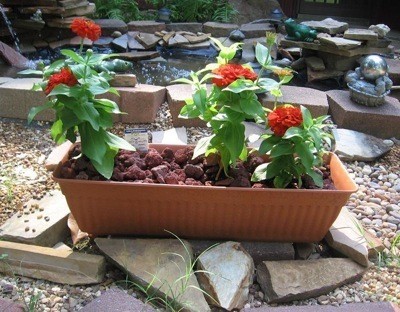 The sound of the water coming from the small waterfall and the "spitting" frog (we put a tube in the ceramic frogs mouth and placed a pump nearby) the frog spits water into the pond; I also have a ceramic green lizard that sits on the other side of the perch where the frog sits like it wants to pounce on the frog and eat it!
It was fun reconstructing this pond and the enjoyment of this area of our yard is beyond measure in our eyes.
By JOSE