In the wild, a plant must rely on Mother Nature to meet its requirement for growth. Houseplants, on the other hand, must depend entirely on you to provide them with what they need. Follow these twelve rules for healthy houseplants. Keep in mind that plants, like people, all have different needs and that there are usually exceptions to every rule.
1. Water Them Properly
Roots need air as well as water. Keeping the compost soaked at all times means certain death for most houseplants. In fact, more plants die from over watering than any other single cause. On the other hand, too little water and the end result is the same. Different plants have different water needs depending on the size of the plant, the size of the pot, the environment and the time of year (almost all should be watered sparingly in winter). Research your plant's specific water needs and use a moisture meter to determine when it's time to water.
2. Feed Them Good Food
Whether in your garden or your house, all plants need an adequate supply of nitrogen, phosphate, potash, and trace elements. The most effective way to deliver houseplant food is to use a liquid fertilizer. That way, food and water are delivered as a single operation. The amount of food needed will depend on the size of the plant and the size of the pot. When the plant is in the rest period, reduce or stop feeding altogether.
3. Bathe Them in Light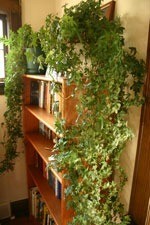 Nearly all plants need 12-16 hours of natural (or sufficiently strong artificial) light daily to maintain active growth.
There are two aspects to providing your houseplants with correct lighting-duration and intensity. Nearly all plants need 12-16 hours of natural (or sufficiently strong artificial) light daily to maintain active growth. Less light means reduced food production and induces a rest period.
The number and quality of blooms is directly related to light intensity. Intensity requirements vary from plant to plant, and although most foliage houseplants require bright light without direct sunlight, most will adapt to semi-shade. Plants with variegated leaves need more light than green-leafed plants, and the succulents (cacti, etc.) have the highest light requirements of all. Flowering plants generally need at least some direct sunlight.
4. Keep Them Warm
Although most houseplants are native to the tropics, few will grow well in households at temperatures above 75°F. This is because normal household conditions provide much less light and humidity then natural tropical environments.
Temperatures ranging from 55°F-75°F during the growing season are suitable for most houseplants. Sudden wide fluctuations in temperature (20° or more) are much worse than short periods above or below the optimum range.
5. Give Them Fresh Air
Although plants are the providers of fresh air, they can also benefit from it. Certain household vapors (fresh paint, ripe apples, dirty oil heaters) can be damaging to many houseplants and their flowers. A change of air can remove these harmful vapors as well as strengthen stems, reduce humidity (in overcrowded situations) and lower air temperatures in hot weather. Provide plants with fresh moving air by opening a door or window, but take care to guard against cold air drafts when temperatures outside are appreciably less than those inside.
6. Let Them Rest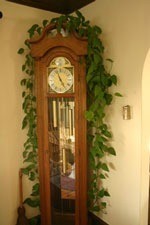 Beginners are usually surprised to learn that nearly all plants need a rest (dormant period) in winter. This usually means providing them with less water, less feeding and less heat than in the active growing period. Winter-flowering plants are the exception to this rule, and must be fed and watered as usual for as long as they are displayed indoors.
7. Maintain Good Grooming
Dust should be removed from houseplant foliage for several reasons: it prevents leaf pores from breathing properly, blocks out daylight, often contains damaging chemicals and spoils the appearance of plant foliage. Use a mister or soft cloth to remove dust from leaves. Do this early in the morning so leaves have plenty of time to dry before nightfall. Support the leaf with your hand while removing dust, and instead of hand washing young leaves, wash away dust with a syringe. Dust from hairy leafed plants like African violets can be gently swept away with a small artist's paintbrush. Avoid products that produce an artificial polish on leaves.
8. Offer Them Extra Humidity
The atmosphere of a centrally heated room in winter is as dry as desert air. Use tepid water in a spray bottle to deposit droplets of water on the plants leaves. Not only will this provide them with a shot of humidity, it helps prevent spider mites and removes dust. Humidifiers and spill trays filled with gravel and water will also add humidity. Plants grown in pots share the humid effects of moist compost when placed close together. As a general rule, plants with papery leaves require more humidity in the air than those with leathery leaves.
9. Treat Trouble Promptly
Expert or beginner, trouble will strike your houseplants at some time. One or two scale insects or mealy bugs are easily picked off; an infestation might be incurable. Over watering is not fatal at first, but kills when prolonged. Learn to recognize the signs of trouble quickly and act immediately to find a resolution.
10. Group Them Together
Nearly all plants look better and grow better when grouped together.
11. Learn to Repot
After a year or two, most plants can begin to look sickly; in many cases, the plant simply needs repotting into a larger container.
12. Use the Proper Tools
Buy a watering can with a long, narrow spout and a mister for increasing humidity, reducing dust and controlling pests. You'll need a reputable brand of compost and a collection of pots, stakes and plant ties or string. Drip trays will keep water off the furniture. A bottle of organic liquid fertilizer and safe pest killer will keep your plants looking healthy. To complete your tool kit include soft a sponge, small artist's paintbrush, an old kitchen spoon, fork, and a pair of small-sized secateurs.