What to do with Medals, Ribbons, Trophies and Certificates
My seven and five year old girls have a lot of medal, ribbons, trophies and certificates. How show I display them? Should I put the certificates in a memory album? Please respond with any ideas. Thank you
- Sunglasses
Add your voice! Click below to answer. ThriftyFun is powered by your wisdom!
April 6, 2005
0

found this helpful
Best Answer
I love Memory Boxes to hang on the wall with glass front. I have one with pictures,booties,graduation tassels wedding favors,which contain items from the most important facets of their lives. I also have one with momentos of my mother and father.They were parents of 6,needless to say ,didn"t have much just a lot of love to give. I found a quote which I have inside. It says "One hundred years from now it will not matter what kind of car I drove,what kind of house I lived in,how much I had in my bank account,nor what my clothes looked like. But the world may be a better place because I was important in the life of a child." It also has momentos of their 50th anniversary and dried roses from their funerals. These are two of the most cherished items I have.
January 17, 2018
0

found this helpful
I will take them if you don't want them and anything else you want throw away I'm going to start working on different projects to earn money for a house remodel projects
Hi,
If anyone has some trophies they don't need anymore and is willing to donate them please let me know. I am in an art show in dallas and i need about 3000 (im half way there!). i would use dhl to pick them up, so no extra work for you. thank you so much for your time. feel free to contact me
the picture i am attaching displays some of the trophies i already have. the object behind it is a model staircase, which i intend to build with the 3000 trophies.
mca10 at hotmail dot com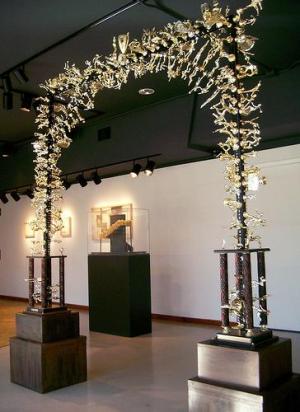 October 2, 2004
0

found this helpful
My mother did the following to display my medals, ribbons and certificates. She took a piece of MDF and stapled batting to one side. Then she took fabric and stretched it over the batting and flipped it over and held it tight while using a staple gun to secure it to the back.
She then flipped it over to the front and criss-crossed ribbons and used upholstery tacks to secure them and stapled the ends to the back. She slid my certificates in between the ribbons and tacked my ribbons on she nailed in my medals. Hope this helps you.
January 13, 2019
0

found this helpful
I have approximately 100-125 or so that if you want them, Im certainly willing to get them picked up and sent to you. Im in the metro Atlanta area.
Add your voice! Click below to answer. ThriftyFun is powered by your wisdom!
Related Content