Hello everyone and welcome to MY essay regarding frugal living! I was once employed for, what I thought, to be a career to which I could retire one day.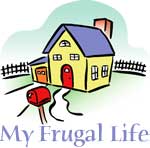 Unfortunately, things did not work out for me that way.
I started my own business when I lost my 13+ year job and learned to be "frugal" in means of living. I had to move 6 times within 7 years and, luckily, I managed. To this day, I shop at thrift stores where I can get name brand clothes and other items cheaply. I also go on craigslist and get directions to yard sales, which again, I can reap treasures! I often buy cheap furniture, repaint it, and sell it.
I have, in no means, accomplished the money I use to make. However, sometimes doing the things you enjoy and knowing "you are your own boss" helps you to live your life fully. I do wish and hope that my company or my painting takes off some day, but until then, I will keep calm in my heart knowing I am doing something for ME for a change.
I once read somewhere, "It isn't about being afraid of the thunderstorm, it is about learning how to dance in the rain".
I lost both my parents by the age of 36 and I lost myself for the most part as well. It is comforting to know that I have not lost what they taught me. Independence!
Thank you Mom and Dad, for without you, I would not be where I am.
By Erin from Raleigh, NC
Do you have a frugal story to share with the ThriftyFun community? Submit your essay here: http://www.thriftyfun.com/post_myfrugallife.ldml