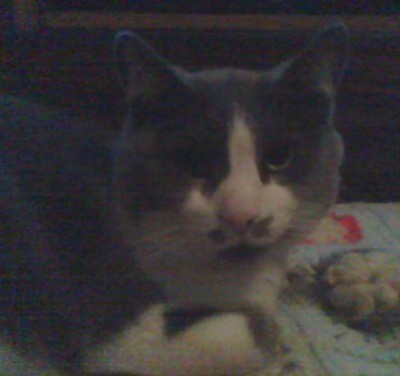 Calico Mo is a 8 year old short hair cat. In 2003 I was living in a mobile home, I noticed that every morning and afternoon the mama cats would come out from under my house and then go back and allow her babies (Mo's mom had 6 ) to come out.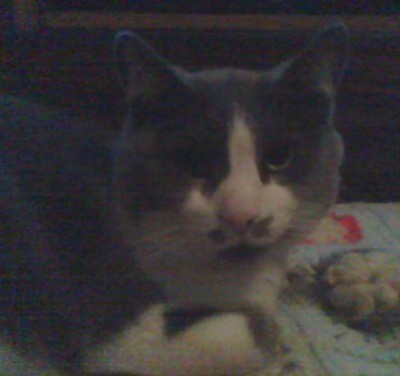 There were 2 different litters and both mama cats did the same thing. When they were about 6 weeks old they started coming out by themselves when their mom left. So I asked my long legged friend to wait over the hole and grab me 1 from each litter.
That's how I got Calico Mo and Elucivity (Lucy). Just in time too, because animal control came 2 days later and took them all. This was in Wyoming,where animal control people actually do their work (Unfortunately for some).
Calico Mo likes to hide and wait for Lucy or Tippy to walk by then he pulls a sneak attack on one of them, whaps them a few times and runs away, then the chase is on. It's hilarious.
He is very loving and I taught him to sleep either on my feet or my back so he can keep me warm. He likes to be brushed. He also loves his tummy rubbed. If he runs out of food he will give me a little nibble and walk toward the kitchen, if I don't follow he'll come back and meow and go to the kitchen again until I follow.
He always comes to me when I click my tongue, always, inside or out. All my babies were fixed when they were young. I Love Them Very Much.
By nightcry