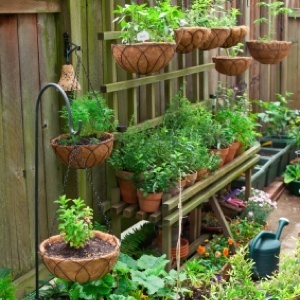 When a container plant suddenly collapses for no visible reason, finding out what happened may require a bit of detective work. A lot goes on below the surface of the soil, and the answer often has to do with the plant's roots. Here are three of the unseen reasons that container plants fail.
1. Vine Weevil Attacks
One possible cause of the sudden death of a container plant is from an attack by vine weevil grubs. Although the adult beetles can't fly, modified legs enable them to grip to nearly any surface. They can easily crawl across walls and ceilings and lay eggs in hanging baskets and containers. Many are also transported on nursery plants. Adult beetles feed on plant leaves and lay their eggs in the soil. Once the eggs hatch (after about 10 days), the grubs burrow into the soil and feed underground on roots. Eventually, the plant is unable to take up water and collapses from moisture stress.
Prevention: Use sharp mulches like egg shells or diatomaceous earth to discourage adult weevils from laying eggs in the soil mix. Adult weevils can be handpicked off of plants. Apply parasitic nematodes to the soil to control larvae.
2. Poor Drainage
If your containers have insufficient drainage holes or the holes are blocked, the soil in the container can become waterlogged and slowly suffocate plant roots. Once enough roots have died, top-growth will suddenly collapse and your plant may appear to die overnight.
Prevention: Make sure you provide containers with adequate drainage holes. Layer small stones or shards from ceramic pots around drainage holes before adding soil. Always empty the excess water from saucers kept under pots to prevent plant roots from standing in water.
3. Starvation
Watering container plants leeches out soil nutrients. Because the roots of container plants cannot seek out nutrients from nearby soil, if not fed regularly, the plants may eventually collapse and die.
Prevention: Regardless of how good the soil mix is, growing plants and constant watering will eventually deplete the nutrients in container soil. Use an organic fertilizer (they are less susceptible to causing burn), and feed plants every other week from early or mid spring until mid summer, according to package directions. If you prefer to feed weekly (or every time you water), dilute the fertilizer to at least 1/2 strength. It's a good idea to start young plants on a high nitrogen fertilizer to promote growth and leaf development, then switch to a low nitrogen, high phosphorous solution to encourage blooming.
Comments
July 16, 2010
0

found this helpful
I never thought of how important it is to feed them regularly. Thanks for the tips. Just did more research and found another article that also goes into the whole drainage thing: http://www.oldh ner-garden.shtml
July 16, 2010
0

found this helpful
I was given this tip by my aquarium shop.
Use the water from tank [bowl] after removing for weekly replacement.
1/ wash any filters in the removed water
2/ give to plants full of natural fish poo.
In my case I only top up the potting mix when I think about it, which is very rarely, but the potted palms appear to grow well on this - + the occassional tea and coffee residue.. PK