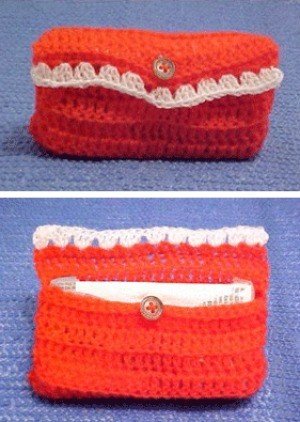 This is a crochet holder for the pocket size packages of tissues. Handy for purse, pocket, or to keep in the car. Make great stocking stuffer gifts or secret pal gifts.
Approximate Time:
Supplies:
sport yarn - small amounts of contrasting colors
button (recycled shirt button works well)
crochet hook, size F
Instructions:
Starting with main color, Chain 27.
Row 1: SC in each Ch across. (26 stitches) Ch 3, turn (Ch 3 counts as 1st DC in next row.)
Row 2: Skip 1st st. Working in back of st. 1DC in each st. across. (26 stitches) Ch 3
Row 3: Repeat row 2. Ch 3, turn. (26 stitcheslast stitch will be in top of Ch 3 from previous row.
Rows 4 to 14: Repeat row 3.
Row 15: Skip 1st st. Working in back of stitch, 1 DC in next st and the following 11 sts. Skip 1 st, DC in next 12 sts.
Row 16: Skip 1st stitch. 1 SC in each st across. End off and weave tail into your work. Attach contrasting color in 1st sc, ch 1. 1 HDC in next st. 2DC in next st. (shell made) *Skip 1 st (this makes the buttonhole) and make a 2DC shell in next st. Repeat from *until you have 8 more shells. 1 HDC in next st, sc in top of turning st. Fasten off. Cut and weave ends into your work.
Using the tissue packet as a guide, and with the shell edge at the top , fold the bottom up to just below the top of the packet. This should be row 13. Sew seam at each side to form a pouch for the packet. Sew button to middle of first row of DC on the pouch. (See photo for placement.) Fold top down over pocket and button. Folding back the opening of the tissue package will allow you to remove tissues from the packet.
By Harlean from Hot Springs, AR
The instructions are also in a PDF file for which you may need Acrobat Reader to view. Download Acrobat Reader
Click Here to download the Pocket Tissue Case Instructions in PDF format.
Comments
Read More Comments