These adorable little hats can be hung on the wall, added to wreaths, used as gift bag tie-ons, or as refrigerator magnets. You can also make a few to sell at a craft fair. They are easy to make and allow you to make use of all the bits and pieces of leftover craft materials you have lying around.
The hats, themselves, are relatively inexpensive if you buy them at a craft store, but check yard sales for even cheaper ones. That's where I found mine.
Crafting Time: 30 - 45 minutes
Materials:
small hats - straw or lace
scraps of ribbon or pre-made bows
small silk flowers and bits of baby's breath
bits of lace fabric trim
pieces of pre-strung beads
craft glue or a glue gun
magnetic tape (optional)
Directions
Arrange the flowerheads, baby's breath, bits of lace, and beads on your hat.
When your arrangement pleases you, glue your pieces into place.
Glue a loop of ribbon to the back of those you wish to hang or use as gift tie-ons.
Glue a piece of magnetic tape to any you want to use as refrigerator magnets.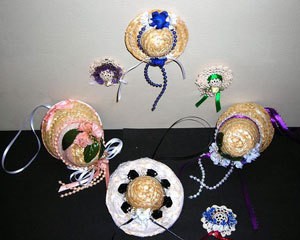 By Marie E. Cecchini from West Dundee, IL