For something a little more special than a plain candle, how about dressing one up a bit!
Approximate Time:
Supplies:
1 candle
heavy thread and needle
misc. beads
chain
wire cutters
straight pins
soft wire
inexpensive necklace
Instructions:
I have shown three different simple ways to get you started. Depending on which you are making read through the directions and gather your supplies.
The first one is simply wrapping an expensive necklace in a spiral. Starting at the top, fold one of your short straight pins into a U shape with one side longer than the other neither side more than 3/8 inches. It may be easier to cut of the head of the pin off rather than making an uneven U. Place it over one end of your necklace and push it into the top of the candle 1/4 inch from the edge so you don't chip the edge.
Now just spiral wrap your necklace until you get to the bottom and do the same with another pin and the other end of your necklace. Place any kind of a pretty bauble or bead over the clasps if you don't like them showing using another straight pin or if your bauble doesn't have a hole you can glue it to the clasp. You will want to make two or three more U shape pins and secure your spiral in a few places to hold it. You can see in my picture I didn't and it has slipped some.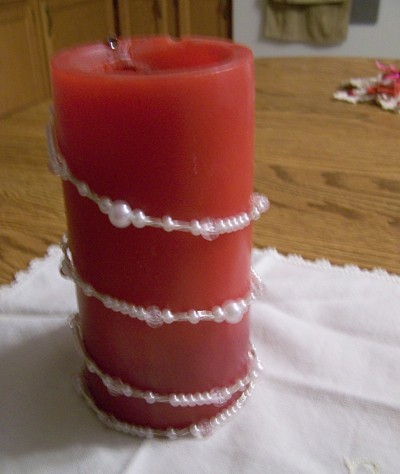 The second design is make by stringing beads of different sizes. I measured around my candle, divided that in thirds and marked those measurements with a small scratch along the rim. Then decide how much of a drape you want and multiply that by three. That will be how long your beaded string needs to be. Remember that when you come to the end of each third to leave a slight space (1/4 inch) so the drape will lay flat against the candle, (tie a knot in your thread at the end of each third so you know where to divide your beads).
I draped a simple chain below my beaded length. Secure your chain and beaded string with the same U pin to avoid too many holes. I then hung a heart bead with the same chain in the point where the drapes start; try using that same U pin if possible. When you are satisfied with your drapes, thread a bead or bauble on one of your straight pins and cover the U pin you used on your drapes.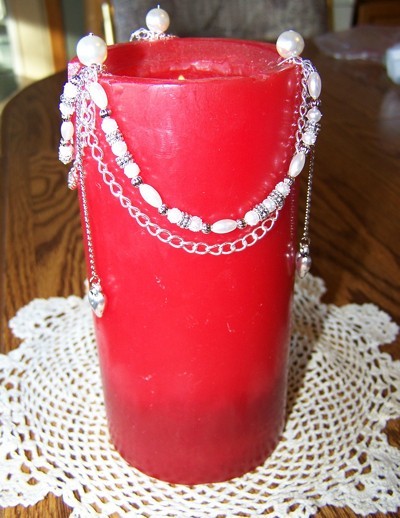 For the third design I simply bent soft wire, mine is aluminum, into shapes I was pleased, with leaving a 1/4 inch tail to push into the candle. I would suggest you secure yours with U pins in several places instead, it will be much more stable.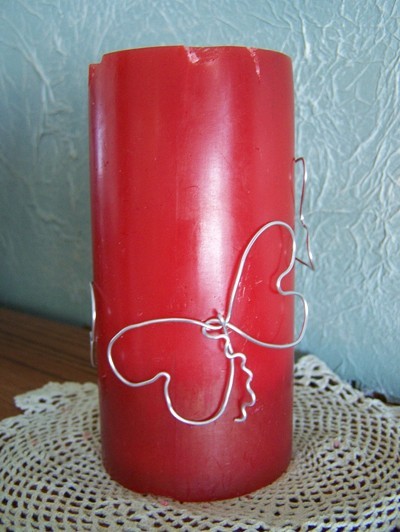 Try stringing pony beads on the wire perhaps. You could use ribbon, leather, jute, or any other medium you come up with, just be sure to include a note that the decoration must be removed if they are going to burn the candle.
There are so many things you can do with the surface itself. Carve shapes into the wax then wipe it with shoe polish making sure to get plenty into the crevices, and then wipe off the excess with a soft cloth. Try different abrasive materials and see what kind of look you get. Decoupage leaves or bits of torn tissue paper on the candle, the pretty picture on a napkin or from an invitation you receive. Just let your imagination run and you will come up with some great ideas for little money.
Refurbish old candles and unwanted scratches by taking old nylons and rubbing the scratches out. For deep scratches you can soften the wax with a hair dryer and remold it with your fingers, then hide the mar if it still shows with a decal of some kind.
By Ann Winberg from Loup City