Studies have shown that when Shiitake, Oyster, and Enoki mushrooms are eaten as part of our regular diets, they can lower cholesterol, moderate blood sugar levels, reduce stress and enhance our immune systems. Additional clinical evidence suggests mushrooms can also play an important therapeutic role in fighting cancer and other major diseases.
If you've ever perused the gourmet mushroom section at the grocery store, you know that these health benefits often come at a steep price, especially if organically grown. Fortunately, it's much cheaper (and just as easy) to grow your own.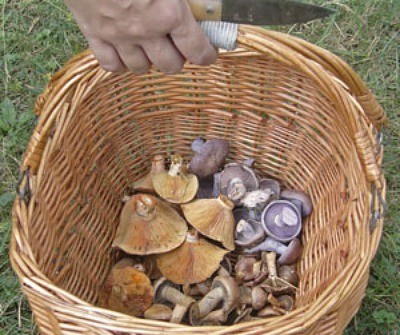 No-Fuss, Pre-Inoculated Kits
In years past, growing mushrooms at home was more complicated (it still can be complicated if you want it to be). Back then, cultivation required wooden frames filled with straw and manure in a dark and damp, cellar-like environment. Today, all that has changed. Mail order kits provide conveniently-sized blocks, logs or bags of straw, saw dust or woodchips that have been pre-inoculated with the mushroom spores of your choosing.
At an average price of $20-$20 dollars, even beginner growers can successfully harvest 2-3 flushes of mushrooms, with each flush weighing in at 1-2 pounds-a significant per pound savings over store bought mushrooms, and with the comfort of knowing that they've been grown without chemicals.
Kits are available for practically every type of mushroom (portabellas, shiitakes, pink oysters, enokis, morels and button), and come complete with growing instructions. Most produce a large flush of clean mushrooms within a few months of colonizing the growing substrate.
Easy Care & Feeding
Generally speaking, all that mushrooms require to grow is an uncontaminated source of food, a moderate amount of moisture and temperatures in the range of 55º F to 80º F. Some types of mushrooms prefer temperatures at the cooler end of this range (enokis) and others are slightly more sensitive to humidity (e.g. oyster) and depending on local conditions, may require misting several times a day. Kits often come with covers or "tents," which help maintain the correct humidity levels once the mushrooms start fruiting.
One of the most important elements in cultivating home grown mushrooms is supplying the growing mycelia with chlorine-free water. This can be achieved by filtering tap water or letting it stand for 24 hours before using it.
A Good Winter Project
Most of the major seed companies now offer kits for indoor or outdoor cultivation, or you can find companies specializing in mushroom kits by searching online. Because kits are available any time of the year, many gardeners find cultivating them an enjoyable off-season project. A heated garage or basement makes an ideal location for home production, or in warmer climates, grow them in a Styrofoam cooler or a sheltered place outdoors. After the growing substrate is exhausted, toss it on top of the compost pile and you may get a bonus flush.
Mushroom Resources:
Http://www.fungi.com
Http://www.mushroompeople.com
http://www.mushroomadventures.com
Http://www.mushroomcouncil.com
(Resources for these medicinal studies on mushrooms can be found here: http://www.fungi.com/mycomeds/info.html#REFERENCES)