May 10, 2011
0

found this helpful
Ana,
They make a product called "Thunder Vests" that can help calm dogs during stressful times (like thunder storms). My vet recommended one as an option for my dog who freaks out on the 4th of July. Maybe clothes calm your dog the same way.
December 25, 2016
0

found this helpful
Its funny because we got our chocolate lab puppy a shirt for christmas and it has mellowed him tremendously. The minute you take it off he goes back to being hell on 4 paws. We like the shirt. Our we being cruel? Its not tight on him at all. Lets us know.
January 23, 2018
0

found this helpful
We also have a Chocolate Lab and put a shirt on him, too. He also calms down. He is a very big Lab and none of the products fit him, so I use one of my husband's shirts and it works great!
You are not being cruel, because what you are doing works and causes no harm.
May 11, 2011
0

found this helpful
I too have heard of Thunder Vests for dogs, they act to help negate anxiety. I'm not sure the exact science behind them but it does seem that maybe there may be some correlation between dressing your dog and him behaving more!
May 11, 2011
0

found this helpful
The clothes might have your dog scared to do anything out of the ordinary.
May 11, 2011
0

found this helpful
Well I can see someone else already told you about Thunder vests. I have a Boston Terrier and he too is much calmer when I put a sweater or his winter coat on him in the cold weather.
He doesn't mind wearing them, he just seems to cease activity. He'll even fall over on the couch when I'm trying to get him dressed. It's like he's gone boneless!
December 24, 2012
0

found this helpful
Any type of clothing for dogs calms them. As to why, you'll probably have to ask an animal trainer. I would simply like to point out that you do not need to pay any extra for a dog clothing item simply because it claims to have a calming effect. The $5 shirt does just as well as the $50 shirt.
February 7, 2013
0

found this helpful
I have a bull mastiff/ amstaff .. He is just a little over a year old. He is huge! I bought him a KU sweeter for Christmas and he calms down almost immediately.
Lays down next to me and just chills. The sweater fits him fine, he eats at dinner time, goes out when it's time.. He simply just is calmer. Does anyone know why?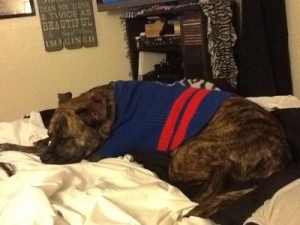 December 1, 2014
0

found this helpful
My dog Toro does the exact same thing! I do believe that clothes do effect a dog's behavior.
December 23, 2016
0

found this helpful
Our 90 pound lab recently had surgery on his stomach and the vet recommended a tshirt if he scratched at it. Well he did, so we put a large v neck t on him. At first he hesitated to walk but only for a few moments.
He has no problem letting us change it when needed so he must not dislike it. I thought the tshirt was to help prevent injury if he scratched at it, but have found he actually is scratching much less as well. I definitely believe clothes effect their behavior.
October 12, 2018
0

found this helpful
Yes my chiauhauh is the same way! It's really weird. I call it his magic cloak! Lol