This is a crafty idea even though it is made with strawberries and chocolates!
Ingredients and Supplies:
Strawberries, washed and dried. Leave the stems on
Chocolate and white almond bark
Wooden skewers
Two microwave safe glass dishes
Wax paper or freezer wrap with the waxed side facing up
Directions:
Melt white chocolate bark in microwave safe dish. Melt chocolate bark in separate microwave dish. Skewer your strawberries with the wooden picks through the tops going maybe 1/4 of the way through.
Put the white chocolate in a tall glass (I used a juice glass or jelly jar) filling it a little over half full. Take the melted dark chocolate bark and with a spoon dot three sides on the inside of the glass, being sure not to let the dark chocolate sections touch.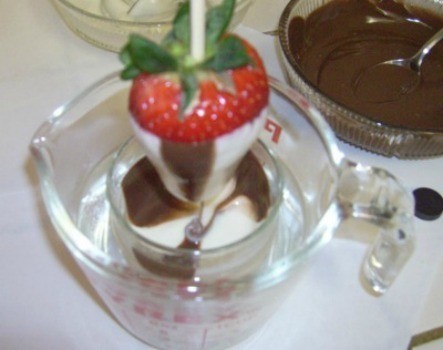 Dip the strawberries until the chocolate comes to the top of the strawberry. Lift up and let it drip for a second. Place the strawberries and skewers onto the wax paper and let air dry.
You will need to dot the white chocolate with the dark chocolate every few strawberries. When the chocolates become nearly mixed, you can start swirling by twisting the strawberries as you pull up out of the glass.
I put my juice glass in a measuring cup filled with hot water to keep my chocolates melted. Be careful not to let water in your melted chocolate or it will seize up - not good!
Source: This was on our local station so no site to post.
By Laurie from Pahrump, NV