Cyinda
Bronze Post Medal for All Time! 213 Posts
June 23, 2009
0

found this helpful
I propagated my English laurel hedges the way you describe. The only thing I did differently was, I used playground sand instead of the "peat moss, vermiculite and perlite" mixture. I also tried a half & half peat moss & playground sand mix but my cuttings ALL died. I figured there was something bad in the peat moss or it was the wrong kind. I know you HAVE to use playground sand & not the sand made for brick patios etc because that kind has a weed killer mixed in to it.
---> My question for you is this: I've always loved hydrangeas but haven't grown them because I was told by someone at a plant nursery that Hydrangeas were named that (beginning with "Hydra") because they need so very much water & me, not wanting to water anything if I don't have to (I live in Seattle & am spoiled) I haven't planted hydrangeas because I don't want to raise my water bill. Last week I heard that this isn't true & they don't need a lot of water. Which is true. Do Hydrangeas need daily watering, or can they go a week or more without being watered? The person who told me this has 10 or more hydrangeas & they are all planted right next to a creek in her back yard where they can suck up as much water as they need.
* Also, should you fertilize them, & if so how often?

June 23, 2009
0

found this helpful
In response to Cyinda.; watering once or twice a week should be fine, depending on weather conditions. If it's hot and dry with no rain for a week, then the hydrangea might need watering twice that week. The plant will droop a bit, letting you know it needs the water. I have 5 plants and haven't had a bit of trouble. I live in NJ. If you're in Seattle I would imagine you get enough rain to satisfy the hydrangea. As with most plants, if it's new, it would need tender loving care the 1st year. Planting in the shade would have you watering less than if it were placed in full sun. I don't fertilize, But lime will make the blooms pink and 'Miracid' will make them blue! Fun!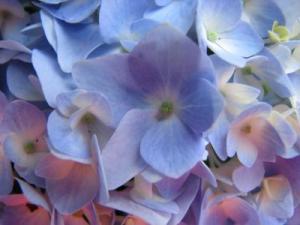 Cyinda
Bronze Post Medal for All Time! 213 Posts
June 24, 2009
1

found this helpful
Want your hydrangeas to remain fresh, bright & colorful well into the autumn months? Instead of picking & bringing them in to dry, try this: When the blooms start drying on the vine & looking tired & old my friend sprays her's with transparent florist spray (made for silk or dried flowers) while the blooms are still attached to the bush. She uses blue & a light purple or fuchsia & masks the stem off by cutting a slice out of a paper plate then slipping the stem of the flower through the slice then spraying it.
Your old dried hydrangea blooms will look like new & the color will remain bright & beautiful for at least 2 extra months!
Don't use regular spray paint. For real looking color you need the transparent floral spray (this spray comes in a can & is sold at most craft stores).
--> I know this tip sounds crazy, but I was pleasantly surprised at how fresh & real these sprayed hydrangeas looked! ...and, one can of coloring will last you for years.

Allison
Bronze Feedback Medal for All Time! 231 Feedbacks
June 26, 2009
0

found this helpful
I just tried this and have about 10 cutting that are about 10 days old. Can't wait to see if some make it! I'm also trying it with climbing roses. We'll see.
Here's the advice I used, but I'm doing mine inside in cups.
www.oldhouseweb.com/.../roses-propagation.shtml

June 25, 2017
0

found this helpful
I live in Maryland what time of the year can I take cutting to grown my own plant