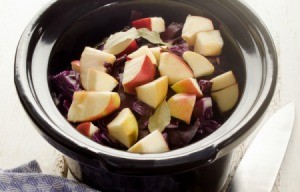 My crockpot finally went out on me. Not sure what went wrong with it but the plastic bottom has a big long bubble where the plastic melted. So now, I will not be using it anymore. I hate to throw away the ceramic pot but cannot think of any uses for it. Does anyone have any suggestions? Thanks in advance!
Kathy from Lou, KY
Answers
Best Answer
You could use it for a serving dish for a party or use it to transport food to a family reunion, or other such function with a large crowd of people. (You've even got the lid, to cover food while transporting.) Or, you could drill a drainage hole in the bottom, and use it for a planter.

Louise B.
Silver Feedback Medal for All Time! 337 Feedbacks
December 20, 2008
2

found this helpful
Best Answer
You could paint or put mosaics on the outside, and use it as a planter. I would not drill holes in it. I would put a plastic pot inside the decorative one.

December 20, 2008
2

found this helpful
Best Answer
I can think of a 100 uses, a planter (use rocks and charcoal in the bottom), to force bulbs, to hold kitchen utensils, to hold apples or onions, rolled up kitchen towels. hot glue ribbon around it and use it in the bathroom to hold hairbrushes, combs and curling iron or rolled up towels, in a craft room to hold just about anything.
Kindling wood or pine cones near the fireplace, put sand in it and store garden tools in it, or put sand in it and a candle inside or out. under the kitchen or bathroom sink to hold messy or soapy items. Reduce, reuse and recycle!

December 21, 2008
2

found this helpful
Best Answer
You CAN use it as a baking dish. I've done it with mine. You can also use it for anything you might use a large bowl for - mixing, serving rolls or biscuits, serving layered salads or deserts. I bet it would make some interesting cakes for decorating.
By Kathleen W. (Guest Post)
December 21, 2008
2

found this helpful
Best Answer
I have one that went out on me. I use it in microwave to cook anything in it. We eat lot of veggies, all kind of greens, beans, corn & etc.
You may also cook meats in it, just to name a few, good luck.
By jean (Guest Post)
December 21, 2008
1

found this helpful
Best Answer
When my crockpot died, I was able to buy another one of the same brand, and now have 2 liners for the pot. If this is not an option for you, you can use the pot in the oven as a casserole dish, or as a serving dish. Just don't use the lid in the oven if the top is plastic, only if it is glass. (Don't ask me how I know.)

Holly
Silver Post Medal for All Time! 364 Posts
December 24, 2008
1

found this helpful
Best Answer
Mine has been recycled into a baking dish, but I keep it at low temps because I don't want to find out the hard way that it shattered all over the oven. I also want to point out that it is so heavy that the oven wire rack actually bends a little - so I can't fill it with too much.

December 30, 2008
5

found this helpful
Best Answer
Here's how I've re-purposed my ceramic crock pot liner and its lid. I sprinkle a little baking soda, add a bit of vinegar and boiling water (no more than 1/3 of the way full), and let it foam up and then cool down. Then I add a couple of drops of tea tree oil. I use that as a soaking post for my cotton menstrual pads. It loosens the blood and kills at least some of the bacteria. Every morning, I pour off the water into a watering can and use it to water my garden, and the nutrients help my plants to grow really well. Sometimes, instead of baking soda and vinegar, I just use the tea tree oil, or a little hydrogen-peroxide, or Oxy-Clean, or biodegradable detergent, depending on my mood and what I've got in the house.
Now, wait a minute. I know at least a few of you are going "Ew, re-use a menstrual pad?" Here's the thing: your grandmother did it, and so did every other woman who came before her. I did the calculation.
Based on a woman beginning to menstruate at the age of twelve and continuing to menstruate until she's 57 (that's 45 years of cycles), one could spend up to $10,000 on disposable pads. Alternatively, one could spend about $200 to buy a startup kit of re-usable overnight, regular, and mini/panty-liner sizes, then buy another two or three re-usable pads at $8 to $15 each every year or two, as they wear out, and wind up spending about a tenth of what one would spend on disposables. Not to mention, you won't be filling landfills with the non-bio-degradable polymers used in disposable pad/tampon construction. Saving the environment AND 90% of the cost? THAT'S thrifty!
By (Guest Post)
December 17, 2008
2

found this helpful
Can you possibly use it to bake in the oven with? Like a REALLY deep casserole dish?
By betty (Guest Post)
January 1, 2009
1

found this helpful
I use mine to brine venison for St. Patrick's day.

March 5, 2018
1

found this helpful
After reading these replies, I was thinking that I would cut the cord on the heating unit and use that as a storage bin under the counter rather than the insert as someone suggested. I'll use the insert for something else. So thankful for all these responses. They were all great. I just have to decide which I will put into use!

January 30, 2020
0

found this helpful
I hope your crockpot never makes it to s thrift store
Answer

this Question