It is now 2011, and what more can we do to be frugal and save in this New Year? Here in Australia, prices are on the up and up - food, electricity, other utility bills, my rent.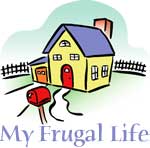 I had a massive monthly rent rise from last October, with no corresponding rise to combat that on my fixed pension income.
Many of these things are practiced by frugal people anyway. but here are the things I continue to do. I wash in cold water and have no dryer. Things are hung inside on clothes racks. I don't have a car, I walk and use public transport. As soon as it's light enough to see (it is summer here now, so morning comes early), lights in the house are switched off.
My balcony door (I live in a second floor apartment) is opened at dawn to let cool morning fresh air inside). My books come free from the library; don't ignore free local newspapers and booklets, they carry a wealth of information about activities and happenings in your community.
The majority of my clothing comes from thrift shops, I have a 'stash' of silver coins to help me across those very lean times. I don't have a yard/garden area, so I can't grow my own vegetables, but I try to buy simple foods, "no name" brands are usually fine.
Take time to reflect on all those things you can do without. Happy frugal New Year to all.
By Ellie from Melbourne, Australia
Do you have a frugal story to share with the ThriftyFun community? Submit your essay here: http://www.thriftyfun.com/post_myfrugallife.ldml