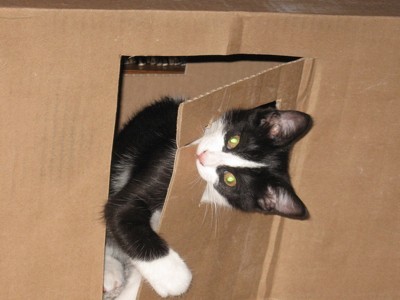 Sadie is a 3 month old Tuxedo cat. I used to have two cats, who got out one night through a window screen while we were sleeping. I found one hiding next door, scared to death, but the other one we never found. It left such a big hole in my heart that, after a month, my husband said, "We need to fill that hole".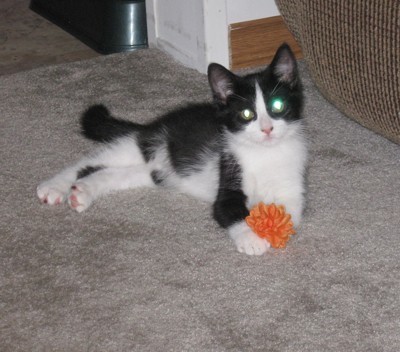 We got Sadie through a Pet Rescue. We fell in love with her at first sight. She was the last of her litter to be sold. My husband thinks it's because she is not perfectly marked. But so what? Her personality is one of a kind!
I still miss my lost cat, but Sadie has helped heel the hole Hudson left. She loves to chase shadows, and likes to annoy my other cat, Mitzi. We have to separate them at night, or else we get no sleep. If you put your hand on the floor and move it just a little, she stalks it, and then turns her whole body upside down before jumping on it. Oh, and she loves to drop her mouses in her water dish!
By Kathy