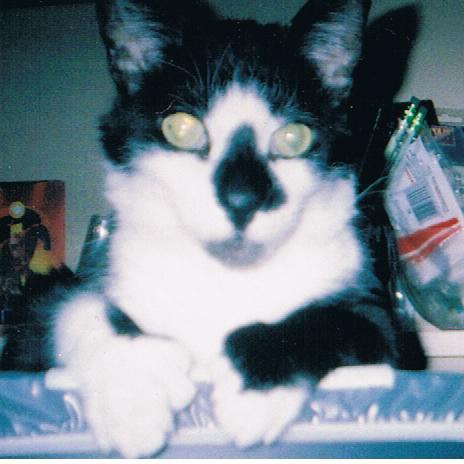 Jake was a domestic polydactyl Tuxedo kitty. Just as with each and every human, so too is it that each and every fur baby is unique and special, but there was just something extra about Jake that endeared him to absolutely everyone. He passed away a year and a half ago at the ripe old age of eighteen and I still miss him dearly. But fond memories live on not only in my heart. but also in the hearts of many others.
One fall day, a cat I had never seen before simply walked through the open door, came inside, started checking things out, and when I finally noticed him (who knows how long he had actually been there because I was busy painting) he just looked at me as if saying, "Hello, here I am and I now plan to live with you." I can't remember exactly why I named him Jake, but the name just seemed to suit him. He was about six months old.
Jake's looks were as unique as his goofy, carefree personality. He was a polydactyl tuxedo kitty with 24 toes and color markings that were far enough "off the mark" that his nickname was clown kitty. His front paws (7 toes each) looked like boxing gloves and he could even slightly separate the three inside toes from the other four, grab something small between the three and the other four and pinch them closed enough to hold tightly to the item. Each of his back paws had 5 toes and those feet simply seemed huge.
He was an extra long, lanky boy with not a bit of fat, but he did have one of those "lots of extra skin hanging down" type of bellies. Between those huge clunky feet, the lanky body, and then that belly which would swing from side to side made it hysterically funny to watch him run.
He loved playing with Q-tips clenched between the three and four toes and would swing it, with paw in air, back and forth and then release it, chase it and start all over again. He also liked hiding them in between the sofa cushions. His other favorite toy was crumpled up cigarette packages. He would bat those around for what seemed like hours at a time and would even play catch and bring it back to you for more until you thought he was going to pass out from exhaustion and you had to make him stop.
Jake's favorite way to drink water was from a large wide plastic drinking glass where he would stick his closed cupped gloved foot into, scoop the water out and drink from that paw as if it were a bowl. He also loved drinking from a bathtub and would come running when he heard the water filling and wait on the edge until it was high enough for him to bend down and lap the water. Forget it that you wanted to get in there to bathe because you had to wait your turn. LOL!
One more story about sweet Jake before sharing three photos. I had a papier mache comical looking replica of a tuxedo cat for many years that was about a foot and a half tall placed next to a large plant on the floor under a window. The first time Jake noticed it he suddenly stopped, took those jumping back and sideways for a few steps that cats do, hissed, slowly inched his way back towards it, sniffed and then walked away as if nothing had even happened. I just couldn't quit giggling for the longest time.
This first photo gives a bit of an indication of how big Jake's back paws were and shows him in all his leisurely glory, the second photo is a good frontal close up of his goofy off kilter color markings and just how huge his front boxing gloves were and the third photo shows his, "I am going to drink before you can bathe!"