The only thing I was able to find on the cake was this from a google search. It is titled as: St Lucia Saffron Cake.
There is a picture of it and A history of St Lucia. Also the recipe is printed. Here's the link
thoughtsfrombecca.blogspot.com/.../st-lucia-saffron-cake.html
Hope this is what you are looking for and best of luck.
Actually in my research it is not a Sicilian recipe. It is Scandinavian. It is also not typical to have a cake it is a saffron buns recipe that is done in Norway and Sweden where the holiday is celebrated.
Here is the link to the recipe:
besthomecookedrecipes.blogspot.com/.../st-lucia-buns.html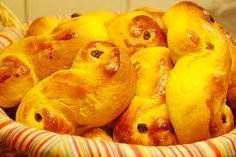 History of St. Lucia Day
Saint Lucia Day
Luciadagen (Saint Lucia Day) is on the 13th of December. It is traditionally a feast day from the Calendar of Saints which comes from the early Christian custom of commemorating martyrs on the anniversary of their death (or birth into heaven). Even though Norway recognizes the other feast days in the Catholic Church, only St Lucia, St John and St Olav's days are celebrated nation-wide.
After the Reformation in the 1500s (when the Protestant Church became the State Church of Norway) St Lucia day was forgotten. It wasn't until after WWII that Norway re-adopted St Lucia Day from the Swedes. Today the celebration is observed in schools and community organizations all over the country.
The school activities on St Lucia Day include a casual procession of singing children. One girl is chosen to lead, who represents St Lucia. She is dressed in white with a red sash and a wreath of candles around her head. Traditionally the procession is made up of all girls dressed in white. However, today, boys also join in, dressed as Nisse, a Norwegian elf. They travel through the school buildings handing out Lussekatter (Lucia buns) and sing the Saint Lucia song:
Sankta Lucia (Norwegian Lyrics)
Svart senker natten seg i stall og stuer.
Solen har gått sin vei, skyggene truer.
Inn i vårt mørke hus stiger med tente lys,
Sankta Lucia, Sankta Lucia!
Natten er mørk og stum. Med ett det suser
i alle tyste rom som vinger bruser.
Se på vår terskel står, hvitkledd med lys i hår,
Sankta Lucia, Sankta Lucia!
English Version
Black night is falling in stables and homes.
The Sun has gone away, the shadows are threatening.
Into our dark house enters with lit candles,
Saint Lucia, Saint Lucia!
The night is dark and silent; suddenly a rush
in all quiet rooms, like the waving of wings.
See, at our threshold stands, dressed in white with lights in her hair,
Saint Lucia, Saint Lucia!
Lucia buns are the traditional treats handed out during the children's procession and are a sweet bread or "boller". The literal translation is
"Lucia cats". This is because of the characteristic winding tail design. The buns are also decorated with raisins.
December 6, 2010
0

found this helpful
As others have mentioned, it's a Scandinavian tradition.
Saint Lucy's Crown
1/4 - 1/2 teaspoon saffron threads
1 cup lukewarm milk
2 packages dry yeast
1/4 cup of warm water (100-110 degrees F)
1/2 cup sugar
1 teaspoon salt
1/3 cup sweet butter
1 egg, lightly beaten
4 cups flour
Grated rind of 1 lemon
4-5 tablespoons blanched almonds, grated or finely chopped
4-5 tablespoons chopped candied citron (optional)
Confectioners' Sugar Glaze (see recipe below)
Tapers or thin candles (optional)
Crush the saffron to a fine powder, and steep it in a tablespoon or two of the lukewarm milk for about 10 minutes. In a large bowl, dissolve the yeast in the lukewarm water. Stir in 1 tablespoon of the sugar. Set the mixture aside for 5 to 10 minutes, or until frothy.
Scald the remaining milk. Stir in the rest of the sugar, and the salt and butter. Stir until the butter is melted. Let cool to lukewarm. Stir into the yeast mixture. Add the saffron milk and lightly beaten egg. Stir in the flour gradually, mixing well. Add the lemon rind, almonds, and citron, if you like.
Turn the dough out onto a lightly floured surface. Knead for about 10 minutes, or until the dough is smooth and elastic. While you are kneading, add more flour if the dough is sticky.
Place the dough in a greased bowl, turning to grease the top. Cover and let rise in a draft-free spot until doubled in bulk, about 1 to 1 1/2 hours.
Punch the dough down. Cut off one-third to make the top braid; set aside. Divide the remaining dough into three parts. Roll each part into a rope about 25 inches long. Place the three ropes close together on a buttered baking sheet and braid them together. (Try starting from the middle; you may find it easier.) Form the braid into a circle, pinching the ends to seal.
Divide the reserved dough into three parts. Roll each part into a rope about 24 inches long. Proceed as above: Place the three ropes close together on a buttered baking sheet and braid them together. Form the braid into a circle, pinching the ends to seal.
Cover both braids lightly and let the bread rise for 30-45 minutes, or until almost doubled in bulk.
Bake at 400 degree F for 10 minutes. Reduce the heat to 350 degrees F and bake for about 40 minutes longer, or until the two braided rings are golden brown and sound hollow when tapped on the bottom.
Place the smaller braid on top of the larger. Dizzle over it the Confectioners' Sugar Glaze. Optional: Stick thin tapers into the crown and light them. There is no fixed number of tapers; why not put in one for each member of your family?
Yield 1 large double braided Saint Lucy's Crown
Variations:
You can elimate the saffron, and flavor the crown with 2 teaspoons ground cardamom; add it along with the salt. For a smaller crown, you can just halve this recipe; the baking time will be a little shorter.
Confectioners' Sugar Glaze
2-3 teaspoons lemon juice or milk or water
1/2-1 cup confectioner's sugar
Stir the lemon juice into the confectioners' sugar; mix well. Add more sugar or lemon juice as needed to produce a proper consistency for dizzling.
December 7, 2010
0

found this helpful
A saffron bun, in Swedish lussebulle or lussekatt, is a rich yeast dough bun that is flavoured with saffron and cinnamon or nutmeg and contains currants. In Sweden, no cinnamon or nutmeg is used in the bun, and raisins are used instead of currants. The buns are baked into many traditional shapes, of which the simplest is a reversed S-shape. They are traditionally eaten during Advent, and especially on Saint Lucy's Day, December 13.
In England, the buns were traditionally baked on sycamore leaves and dusted with powdered sugar. This "revel bun" from Cornwall is baked for special occasions, such as anniversary feasts (revels), or the dedication of a church. In the West of Cornwall large saffron buns are also known as "tea treat buns" and are associated with Methodist Sunday School outings or activities. Most commercially available saffron buns and cakes available in Cornwall today contain food dyes that enhance the natural yellow provided by saffron. The very high cost (it is the world's most expensive spice by weight[1]) makes the inclusion of sufficient saffron to produce a rich colour an uneconomical option. The addition of food colouring in Cornish saffron buns was already common by the end of the First World War when the scarcity of saffron forced bakers to find other ways to colour their products. Larger versions of the saffron bun baked in a loaf tin are known as saffron cake.