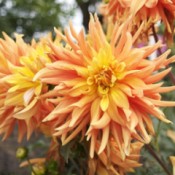 Question:
My dahlias are falling over. Do dahlias always need to be staked and if so, how would you recommend doing it? The previous owner planted several dahlia bushes that come back each year and the tall bud-stems keep falling over. It seems strange that in nature a flower would always grow too heavy for it's stem. Am I doing something wrong?
JLS from Olympia, WA
Answer:
JLS,
Many of the taller varieties of dahlias do end up needing some sort of support to prevent the heavy flower heads from flopping over. As others have mentioned here, these are not the same dahlias originally designed by nature (native to Mexico). Instead, many of today's modern varieties have been selectively bred to produce large, showy flowers. We can only hope that the stems catch up soon.
Many gardeners use tomato cages or wooden stakes to support dahlias. Personally, I prefer tomato cages. They provide "all over" support and as the dahlias grow, the foliage easily hides the cage. The real secret to staking is to get the supports in place as soon as possible after planting.
Here is a link to a "no stake, no tie" system for supporting Dahlias using tomato cages. This system will work great on a variety of flowers that require extra support. I really like the way he uses the bottom tines as stakes to anchor the cage-no more bending the bottoms of your tomato cages. They always seems too tall for most flowers anyway. Good luck!
Ellen