September 8, 2010
0

found this helpful
Here is a photo of the kitchen. Like I mentioned earlier the first problem is that the red tiles were missing above the coffee maker/toaster. It's impossible to find red tiles anymore so I filled in the area with white. No big deal because I was planning on painting the tiles, but now I'm second guessing the idea. So my next thought it to keep the red tile (ugh) & paint the walls. You can see that they are a very light tan. I feel like the top half of the walls need more contrast in comparison with the cream colored cabinets and wainscot. It just needs something to give it more personality but still classy. But the question is, what color matches those crazy red tiles? Any ideas?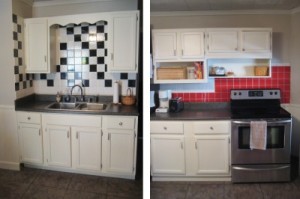 September 9, 2010
0

found this helpful
Go to a good paint store and tell them you are painting the tile...Then do a beige or taupe and get rid of the pattern. Also their are laminate painting kits that look like granite.
Have you thought about covering the tiles with laminate instead? Your kitchen sounds very nice, but the pattern and color of the tiles may be the problem.
September 10, 2010
0

found this helpful
I kind of like the black and white tiles. If this were my kitchen, I would try to use them as the anchor of your scheme. I would get accessories that echoed this 50's kitsch theme, bringing touches of red onto the sink side, and black and white onto the stove side. You could also go with a country theme. I keep thinking of cow accessories(black and white) or roosters (touches of red). Or maybe red apples. I have a red apple tea kettle that would look great! You could put some decorative items on the tops of your cupboards, cows, roosters, apples, tomatoes, stuff that unites the two sides.
Curtains (if you have a window) that brings in your theme.
I have painted tiles in my bathroom, courtesy of the previous owner. Where the paint is sticking, it looks okay, but it is peeling off in several places and I must re-do it, much against my inclination. In a previous house I had green plastic tile (from the 50's) on the wall, which I disliked intensely, but which I was able to minimize with a wallpaper boarder, fluffy towels hung over a lot of the wall area, and appliques on the cupboard cut out of the wallpaper.